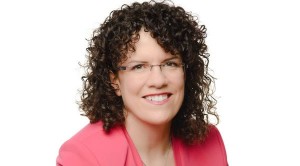 By Tracey Arial
www.thesuburban.com
Last Wednesday, members of the Douglas Mental Health University Institute board held their final regular meeting. They'll meet for the last time, March 31.
After that, local participation in mental health governance will end.
Some of the people making the decisions will, however, remain the same.
As of April 1, all decisions about health care will be made by 29 regional boards. Every one sitting on those boards will be appointed by Health Minister Gaétan Barrette. In the case of the Douglas, the person in charge will be the new executive director of the West Island Centre intégré universitaire de santé et de services sociaux (CIUSSS) Benoît Morin, who was named to that position on March 6.
Last week, he was joined by Lynne McVey, who has been serving as executive director of the Douglas Mental Health University Institute since 2012.
"We're very pleased that our director general Lynne McVey has been named to the assistance director general position for the CIUSSS," said Claudette Allard, the outgoing chair of the Douglas board. "We're very proud of her in that respect. We're also relieved in the sense that we know that there will be somebody in the top management in the CIUSSS who knows about mental health care and the particular challenges that face us."
Allard has also applied to join the CIUSSS board, but she doesn't expect to know whether she'll be considered for a position for another month or two. In the meantime, she's continuing to volunteer to ensure that the board ties up as many files as possible for a clean transition.
"I've been probably a lot busier in this role in the last six months than most other times," said the Nuns' Island resident who has severed on the board for 15 years and led it since 2003. "Certainly all the big changes that are coming into effect as of April 1 have been a lot to deal with, so I've been trying to make myself as available as possible. I anticipate that that's going to continue for the next couple of weeks. We're trying to wrap up a lot of dossiers so that we go into the CIUSSS without dangling ends."
The Douglas Institute is a bit more complicated than other public institutions. It sits on 598,281 square metres of land and comprises more than 30 buildings that will continue to belong to a private corporation even after the switch to CIUSSS. In addition to the main institution, the Douglas Institute runs Wellington Centre in downtown Verdun. The private Douglas Foundation will also continue operating.
Allard, who was a Fasken Martineau DuMoulin partner until she retired in 2011, and still teaches tax law at both McGill and the University of Montreal, hopes to remain involved in Mental Health care after April 1.
"Our research centre is 35 years old and it's the second biggest in mental health care in the country," she said. "The only one that's bigger is the Centre for Mental Health Addiction in Toronto. To be able to build that in so little time is a huge accomplishment. As a board member, it's a privilege to have contributed."
(function(i,s,o,g,r,a,m){i['GoogleAnalyticsObject']=r;i[r]=i[r]||function(){
(i[r].q=i[r].q||[]).push(arguments)},i[r].l=1*new Date();a=s.createElement(o),
m=s.getElementsByTagName(o)[0];a.async=1;a.src=g;m.parentNode.insertBefore(a,m)
})(window,document,'script','//www.google-analytics.com/analytics.js','ga');
ga('create', 'UA-45892555-1', 'auto');
ga('send', 'pageview');
Lynne McVey
Claudette Allard