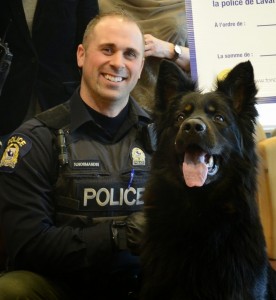 By Robert Frank
www.thesuburban.com
Laval Police handed the Martin Matte Foundation a cheque for $51,081 last week.
The two-footed and four-footed members of the city's finest teamed up again for the sixth straight year, to produce and sell an illustrated calendar that portrays the furry members of the Laval Police dog squad.
The latest contribution bringing the total amount that they have raised for the head trauma charity over a quarter-million dollars.
The Martin Matte Foundation (www.fondationmartinmatte.com) builds specialized homes and supports activity centres for head trauma victims.
Laval Police thanked local IGA grocery stores for helping to distribute the $5 calendars. They initiated the charity project after Const. Éric Lavoie died from head injuries, following a car crash.
Dog to learn French
The city's eight police dogs are routinely involved in important Laval Police operations. During the past year, The Suburban has reported on numerous incidents where the pooches have succeeded in helping their handlers track down and arrest lawbreakers.
Last week's ceremony featured the latest addition to the Laval Police canine squad.
Calgary-born Finder, a long-haired two-year-old German shepherd, was on hand, fresh from the Royal Canadian Mounted Police kennel.
Finder is about to start several months of intensive training and will learn to respond to French commands from handler Const. Nicholas Normandin.
"Finder will succeed a police dog that retired in the fall," Sgt. Frédéric Jean told The Suburban. "For eight to ten years the dogs work shifts like other police officers and then are found retirement homes."
Finder, Laval's newest police dog, will spend the next eight to ten months learning to respond to French commands from handler Const. Nicholas Normandin.
(function(i,s,o,g,r,a,m){i['GoogleAnalyticsObject']=r;i[r]=i[r]||function(){
(i[r].q=i[r].q||[]).push(arguments)},i[r].l=1*new Date();a=s.createElement(o),
m=s.getElementsByTagName(o)[0];a.async=1;a.src=g;m.parentNode.insertBefore(a,m)
})(window,document,'script','//www.google-analytics.com/analytics.js','ga');
ga('create', 'UA-45892555-1', 'auto');
ga('send', 'pageview');