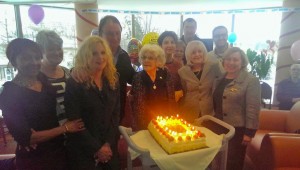 Maxwell Residence hosts milestone birthday
By Jim Morrison
www.thesuburban.com
The Maxwell Senior residence, Baie d'Urfe was surrounded with family and dozens of local well-wishers, on Monday February 7, in wishing Ms. Evelyn Urban a happy 100th birthday.
Baie d'Urfé Mayor, Maria Tutino, presented Ms. Urban with flowers, and a plaque which will be added to the grounds of Town hall to honor her milestone birthday.
When asked the secret of her longevity, Ms. Urban quipped "It is all in the Palmolive."
She is the third Centenarian at the Maxwell residence, and 5th within the Town of Baie d'Urfe.
More information on the Maxwell Residence is available at www.maxwellresidence.com
(Photo © Jim Morrison)
(function(i,s,o,g,r,a,m){i['GoogleAnalyticsObject']=r;i[r]=i[r]||function(){
(i[r].q=i[r].q||[]).push(arguments)},i[r].l=1*new Date();a=s.createElement(o),
m=s.getElementsByTagName(o)[0];a.async=1;a.src=g;m.parentNode.insertBefore(a,m)
})(window,document,'script','//www.google-analytics.com/analytics.js','ga');
ga('create', 'UA-45892555-1', 'auto');
ga('send', 'pageview');