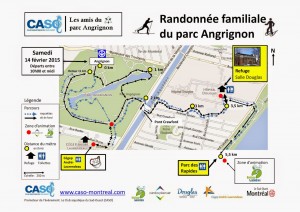 By Tracey Arial
The Friends of Angrignon Park are holding their third annual family skiing and snowshoeing day on Saturday, Feb. 14, from 10 a.m.-3:30 p.m.
I'm so happy to invite you to the 3rd version of this event," said Pierre Marcoux, at the Douglas Institute Good Neighbours' meeting last month.
Marcoux is among several Verdun, Southwest and LaSalle residents who are involved in the organizing committee for the family ski day.
The activity is free, but organizers ask that adults contribute $5 each to cover the costs of posters, permits, guides, maps and drinks.
Marcoux says he expects roughly 150 people to ski and snowshoe in Angrignon Park, on the grounds of the Douglas Research Institute and along the St. Lawrence River.
His committee has also arranged for Douglas Hall, CEGEP André Laurendeau and the Knights of Columbus Hall to be open from 11:30 on so that families with young children or others who want to take a break will have warm locations to eat, relax and/or use toilets.
Interpreters will be interspersed along the route to provide details about the natural beauty of the St. Lawrence lowlands and the ecological highlights on view that day.
They suggest that everyone bring warm clothes, a bottle of water and a lunch.
Volunteers will be handing out maps showing participants how to follow routes ranging from three to 11 kilometres in length. The main route begins at Metro Angrignon, goes through Angrignon Park and the Douglas Research Institute and along the Saint Lawrence River to the Rapids Park and then back.
Police will be on hand to guide people safely across the busy La Verendrye and the not-so-hectic Champlain Boulevard.
Partners in the event include the Douglas Research Institute, CEGEP André Laurendeau, the Club Aquatique du Sud-Ouest (CASO), Heritage Laurentian, the Knights of Columbus and the Committee for the Protection of the Natural and Built Heritage of the Desmarchais-Crawford District.
Participants are asked to register via the event Facebook page at Les amis du parc Angrignon or CASO's site at www.caso-montreal.com.
(function(i,s,o,g,r,a,m){i['GoogleAnalyticsObject']=r;i[r]=i[r]||function(){
(i[r].q=i[r].q||[]).push(arguments)},i[r].l=1*new Date();a=s.createElement(o),
m=s.getElementsByTagName(o)[0];a.async=1;a.src=g;m.parentNode.insertBefore(a,m)
})(window,document,'script','//www.google-analytics.com/analytics.js','ga');
ga('create', 'UA-45892555-1', 'auto');
ga('send', 'pageview');