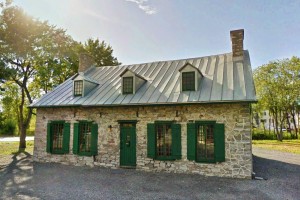 Long-neglected district marks 275th birthday in 2015
By Robert Frank
www.thesuburban.com
The Suburban has learned that St. Vincent de Paul Councillor Paolo Galati will soon announce plans to spruce up his district's historic zone this year.
St. Vincent de Paul will mark its 275th anniversary in 2015. It is one of the oldest Île Jésus municipalities that Quebec forced to join Laval a half-century ago in the shotgun municipal merger of 1965.
"It's a gem," Galati told The Suburban. "Old St. Vincent resembles traditional French Canadian towns in the Laurentians and elsewhere in Quebec. It's a little village situated right on the water between two big cities: Montreal and Laval."
Though historic sites from that era were demolished in 1929 to make room to build the federal prison, Old St. Vincent still contains some noteworthy architecture.
They include farmer Pierre Labelle's original 1750 home, the Auclair Hospital, the prison warden's mansion on Lévesque Boulevard East and historic residences on Bellevue Avenue. It also includes St. Vincent de Paul Church, completed in 1875, which took 21 years to build, and pretty Victorian homes as well as its Great Depression-era city hall designed by architect Damase Fabreau.
"For many years, it was neglected by the previous [municipal] administration," Galati said in an interview. "Now I'm working on breathing new life into it."
"It was an election promise that I intend to keep," he concluded. "I am in the process of putting the project together and hope to announce specifics in the very near future. I will be in meetings during the next several weeks and, based upon the outcome of those meetings, we will have details of we intend to proceed with this project."
Farmer Pierre Labelle homesteaded here in 1750.
(function(i,s,o,g,r,a,m){i['GoogleAnalyticsObject']=r;i[r]=i[r]||function(){
(i[r].q=i[r].q||[]).push(arguments)},i[r].l=1*new Date();a=s.createElement(o),
m=s.getElementsByTagName(o)[0];a.async=1;a.src=g;m.parentNode.insertBefore(a,m)
})(window,document,'script','//www.google-analytics.com/analytics.js','ga');
ga('create', 'UA-45892555-1', 'auto');
ga('send', 'pageview');