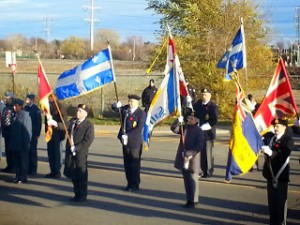 By Tracey Arial
Veterans, politicians and citizens of LaSalle participated in a pre-Remembrance Day service last Sunday, November 9.
The service took place at LaSalle Branch 212 on Bouvier Street. It began at 3 p.m."It was an excellent day," said Fred Jennings, Branch 212's president. "There were 6 or 7 police cars there. No one could get in.
Mathieu Durand told me that everything would be okay and it was. Royal Canadian Air Force 438 Squadron wasn't going to march, but when they saw the police presence, they said, 'okay, we'll march.' Even the cadets weren't supposed to be there, but they were. They marched too."
Durand couldn't be there himself, so he sent NDG Commander Pierre Rousseau.
Louis Stacey the president of the Kahnawake Branch 219 and Stan Kircoff the president from Verdun Branch 4 also attended with their colour parties."We went to Verdun last week and we had our colour party in Kahnawake on Saturday as well," said Jennings. "They had about 400 people. Every branch goes there."
Wreaths were also laid by the Royal Canadian Mounted Police, Federal M.P. Helene Leblanc, Quebec MPP Robert Poeti and LaSalle Mayor Manon Barbe.
Anglican Deacon Robert Callender from St. Lawrence Anglican and Catholic priest Gerry Martineau, of the St. Jean Brebeuf Church attended, as did city councillors Monique Vallée and Richard Deschamps, and borough councillors Josée Troilo and Laura Palestini.
Jennings said that more people buying poppies this year as well, although he's not sure whether the income will be significantly higher than the $24,000 they collected last year."We had a lot of teenagers buying this year. Also, African Americans, Asians and other immigrants were all buying too. They were all thanking me. I didn't do anything."
Jennings says he's particularly grateful to his volunteers who sat collecting poppies, some many times. "Audrey sat seven times; Bernice sat eight times."
(function(i,s,o,g,r,a,m){i['GoogleAnalyticsObject']=r;i[r]=i[r]||function(){
(i[r].q=i[r].q||[]).push(arguments)},i[r].l=1*new Date();a=s.createElement(o),
m=s.getElementsByTagName(o)[0];a.async=1;a.src=g;m.parentNode.insertBefore(a,m)
})(window,document,'script','//www.google-analytics.com/analytics.js','ga');
ga('create', 'UA-45892555-1', 'auto');
ga('send', 'pageview');
Photo © Joseph Pugliese