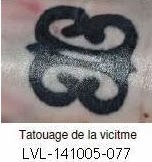 Want to identify remains of black woman found dead in Rivière des Prairies
On Oct. 5, 2014, a the body of a woman was found in the river in the St. François district. She had no identification on her.
The woman was aged between 20-40 years old, was 1.64 m tall and weighed 61 kg.
She had a tattoo about 4 cm long in black ink on the inside of her left wrist.
Laval Police are asking anyone who could help them to identify her to call [450] 662-4636 or 911 and mention file LVL 141005-077.
Victim's tattoo
(function(i,s,o,g,r,a,m){i['GoogleAnalyticsObject']=r;i[r]=i[r]||function(){
(i[r].q=i[r].q||[]).push(arguments)},i[r].l=1*new Date();a=s.createElement(o),
m=s.getElementsByTagName(o)[0];a.async=1;a.src=g;m.parentNode.insertBefore(a,m)
})(window,document,'script','//www.google-analytics.com/analytics.js','ga');
ga('create', 'UA-45892555-1', 'auto');
ga('send', 'pageview');