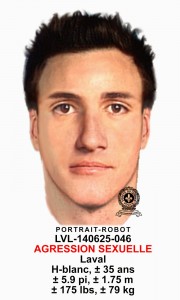 Police Beat
By Robert Frank
www.thesuburban.com
Manhunt for girl groper
Laval Police have published a composite photo and are enlisting the public's help in identifying and tracking down a man whom they say groped several women in Pont Viau this summer.
"Between June 22-July 25, the suspect approached them from behind and grabbed their busts or bottoms—or both at once," said Const. di Genova.
"All three incidents happened in broad daylight, between 1 p.m.-7 p.m. We're hoping that someone might recognize him from the drawing."

Police want you to help them to identify this alleged sexual aggressor.
Eyeglass thieves
Burglars broke in to Lunettrie Grimard in Vimont, Oct. 13, and made off with some $70,000 worth of eyeglass frames and computers.
"A client entered the unlocked store at 2071 Laurentides and, once inside, found himself alone there, and the place ransacked," said Const. di Genova. "He called 911 and awaited police outside the store.
In another break and entry, four days earlier, thieves smashed the side window of the Jean Coutu pharmacy at 255 Concorde in West Duvernay.
"The smash-and-grab took place around 1:30 a.m., Oct. 9," Const. di Genova added. "They smashed the glass countertop and made off with 165 bottles of perfume worth, on average, $90 each, as well as other valuable beauty products."
(function(i,s,o,g,r,a,m){i['GoogleAnalyticsObject']=r;i[r]=i[r]||function(){
(i[r].q=i[r].q||[]).push(arguments)},i[r].l=1*new Date();a=s.createElement(o),
m=s.getElementsByTagName(o)[0];a.async=1;a.src=g;m.parentNode.insertBefore(a,m)
})(window,document,'script','//www.google-analytics.com/analytics.js','ga');
ga('create', 'UA-45892555-1', 'auto');
ga('send', 'pageview');