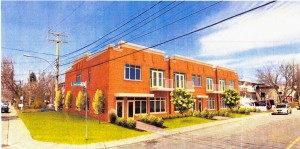 Eight new housing units planned


By Tracey Arial
Owners want to convert an empty building at 8869-8885 Centrale (lot 1234286), between 67 and 68th, into an eight-residence apartment complex.
Almost a dozen neighbours attended the public consultation about the project last Monday night (Sept. 29), which was headed by Serge Duclos.
Many expressed concern because the new project will attract too many cars to an area in which people already have a lot of trouble parking. The new project will included a fully-paved lot, but it's very small and only has enough room for twelve cars maximum.* Residents worry that one of those spaces will be reserved for garbage and recycling bins.
They also said that the current owners, who live in Dollard des Ormeaux, don't take care of the property. They worry about noise and that garbage will pile up during construction.
No one spoke in favour of the project, although the CCU has approved it.
Anyone with concerns will be able to ask for a referendum on the issue because specifications break seven* different sections within LaSalle's current zoning bylaw. The sections which no longer apply are: 3.5, which determines building usage; 5.3 which specifies parking restrictions; 6.1.1 which describes necessary margins to the edge of the property, curbs, etc.; 6.1.5.3.1.1, which says that the space in rear dedicated to parking must be no more that 35 per cent; 7.12, which specifies reasons for exceptions to the bylaws; 7.55, which limits the number of units to 7; and 7.75, which includes specific heritage restrictions for the area.
Twelve signatures will be required for one or several of the nine zones affected by the proposed project.
Borough officials did not specify the dates in which signatures must be submitted to the borough at the consultation. That date has since been set, however, and borough officials say it will be Oct. 24. (This date will be published next Thursday, Oct. 16 in the LaSalle Messenger and on-line on the borough's website.)
Residents who attended the consultation did not receive a written description of the conversion either, something that's quite unusual. The borough did however, inform 897 families living in the zones affected by the project about the consultation by placing a bilingual letter with photos in their mailboxes.
Anyone else in the borough who wants to consult plans should refer to resolution CA14 20 0497 at LaSalle Borough Hall, 55 Dupras.
Note: This story appeared on page 22 in the October 1 version of the City edition of The Suburban.
*The first version of this article mentioned fewer spaces.
**The first version of this article specified more sections.
***The first version of this article did not mention the bilingual postal invitations by the borough.
(function(i,s,o,g,r,a,m){i['GoogleAnalyticsObject']=r;i[r]=i[r]||function(){
(i[r].q=i[r].q||[]).push(arguments)},i[r].l=1*new Date();a=s.createElement(o),
m=s.getElementsByTagName(o)[0];a.async=1;a.src=g;m.parentNode.insertBefore(a,m)
})(window,document,'script','//www.google-analytics.com/analytics.js','ga');
ga('create', 'UA-45892555-1', 'auto');
ga('send', 'pageview');
Architect's rendering of the proposed conversion, supplied by Borough of LaSalle