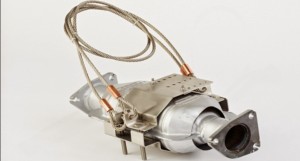 By Robert Frank
www.thesuburban.com
Thieves have stolen more than $130,000 worth of catalytic converters in Laval this year from individual car owners, Laval Police disclosed last week.
"Since Jan. 1, there have been 86 thefts on Laval territory," Const. Franco di Genova told The Suburban.
The thieves have mostly been targeting older, low-end General Motors cars and vans in retail parking lots.
"Pontiac Sunfire and Montana as well as Chevrolet Cavalier and Venture models from 1998-2005," Const. di Genova reported. "Two delivery trucks also had their catalytic converters stolen, which are much bigger and costlier to replace."
The catalytic converters contain a thin internal coating of platinum that dramatically reduces air pollution. Even though there is only a tiny amount of platinum in a catalytic converter, the metal is worth more than gold, fetching $1,623/oz last week.
The devices can cost $1,500 to replace (or up to $5,000 for a truck) and the stolen converters fetch $130 from used parts dealers, according to United States law enforcement officials.
The converters also contain other valuable metals like palladium whose price has this year jumped 20 per cent to $938/oz, and rhodium, whose price has remained stable and was worth $1,239/oz last week.
"Back in 2008, we had a similar rash of such thefts," recalled Const. di Genova. "One dealership had so many stolen from new cars on his lot that when the cars arrived from the factory he had his mechanic remove the catalytic converters and install them only when the cars were sold."
"Detectives subsequently made about six arrests," he added. "That's what is happening again in 2014."
In the meantime, motorists can protect their converters by etching a unique number on them. Muffler shops like Express AutoCare on St. Elzéar.

For a fee, muffler shops will weld an anti-theft device to your car or truck exhaust system.