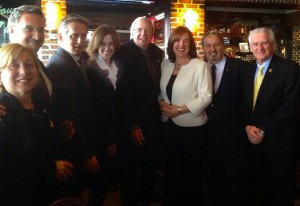 By Rhonda Massad
www.thesuburban.com
Lakeshore General Hospital Foundation (LGHF) chairman Bernie Marcotte introduced Heather Holmes as the charity's new managing director during a news conference at Baton Rouge restaurant, May 1.
Kirkland Mayor Michel Gibson and Baie d'Urfé Mayor Maria Tutino were among those on hand to usher her in to her new post, together with city councillors from Pointe Claire and Kirkland.
Organizers said that Holmes' 16 years of experience in executive management which includes serving as executive director at AMCAL family services and West Island Community Shares, Holmes promises to be a good fit.
"She has excellent credentials," board member Nick di Tomaso, a former chairman of the foundation, told The Suburban in an interview, "She is positive, enthusiastic and a West Island resident. I am looking forward to working with her. There is a lot to learn and this is not an easy business."
According to Holmes, the hospital foundation has built a strong reputation since its inception in 1964. She said that she intends to create new momentum by adopting an improvement strategy for the foundation at all levels.
"I feel excited and enthusiastic about the important work that is done at the foundation. I can't wait to get started," Holmes explained. "We are very lucky to have a community hospital on the West Island. I am eager to establish new relationships and take the foundation to the next level."

(Left to right) Baie d'Urfé Mayor Maria Tutino, Lakeshore Hospital Foundation (LHF) board member and Kirkland Councilor Tony Di Gennaro, LHF chair Bernie Marcotte, community activist Brigitte Garceau, Kirkland Councillor John Morson, new LGF managing director Heather Holmes, Pointe Claire Councilor Aldo Iermieri and Kirkland Mayor Michel Gibson.
(function(i,s,o,g,r,a,m){i['GoogleAnalyticsObject']=r;i[r]=i[r]||function(){
(i[r].q=i[r].q||[]).push(arguments)},i[r].l=1*new Date();a=s.createElement(o),
m=s.getElementsByTagName(o)[0];a.async=1;a.src=g;m.parentNode.insertBefore(a,m)
})(window,document,'script','//www.google-analytics.com/analytics.js','ga');
ga('create', 'UA-45892555-1', 'robertfrankmedia.blogspot.com');
ga('send', 'pageview');