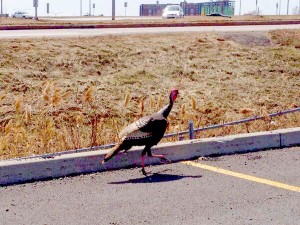 By Rhonda Massad
with files from Robert Frank
www.thesuburban.com
On Thursday, April 17, just in time for the Easter festivities, Laval police found themselves chasing down several wild turkeys on Highway 440 at the Papineau exit in Vimont. Wildlife, such as deer, has been known to take a walk on Laval highways. According to Const. Franco di Genova of the Laval police department, though the fence is low and easy to climb over, this was the first time wild turkeys have been this brave.
Wannabe roadrunners or Easter escapees? Laval Police had to corral wild turkeys that strayed onto Highway 440 in Vimont, April 17.
Mystery shooting
Laval Police responded to a 911 call after Chomedey residents heard shots ring out around 4 a.m., April 24.
"Officers searched the area and found automotive glass and bullet casings in the parking lot adjacent to Chenoy's," Const. Nathalie Lorrain told The Suburban. "There were no traces of blood, though, and no hospitals in the region treated anyone for gunshot wounds."
Chenoy's customers heard two cars leave the scene after the sound of shots, she said. Investigators are checking security camera video imagery from local businesses in an effort to identify the perpetrators.
Armed bank robbery
A white male aged about 30, dressed in black and wearing a ski mask, entered the Laurentian Bank at 510 des Laurentides, April 3, and held up several tellers. He made off with over $5,000 in cash. The entire event took about one minute.
Molotov cocktail
On April 7, at 9:45 p.m., an unidentified individual set fire to a garage at 595 Gilles Street in Fabreville, by tossing a Molotov cocktail inside. The perpetrator broke the windows of the garage to throw a bottle with a rag sticking out through the shattered glass. Fire spread quickly there through one of the cars and the tool shed. A witness called 911 and the firefighters put out the fire before any further damage occurred. Once the fire was under control, they called in investigators, whose reports are pending.
Have you been a victim of a hit and run?
Laval Police are looking for the owner of a gray sport utility vehicle that could have been victim of a hit and run, Jan. 29, around 3 p.m. on Samson Boulevard near 100th Avenue.
If so, you might be an important witness, as the perpetrator might be connected to two other crimes that occurred nearby.
Police want anyone who has pertinent information to call their confidential tip line 450-662-INFO (662-4636) or 911 and mention file number LVL-140221-061.
(function(i,s,o,g,r,a,m){i['GoogleAnalyticsObject']=r;i[r]=i[r]||function(){
(i[r].q=i[r].q||[]).push(arguments)},i[r].l=1*new Date();a=s.createElement(o),
m=s.getElementsByTagName(o)[0];a.async=1;a.src=g;m.parentNode.insertBefore(a,m)
})(window,document,'script','//www.google-analytics.com/analytics.js','ga');
ga('create', 'UA-45892555-1', 'robertfrankmedia.blogspot.com');
ga('send', 'pageview');