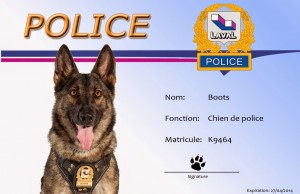 By Robert Frank
www.thesuburban.com
A traffic patrol officer spotted a driver talking on a cell phone, March 18, leading to a high-speed chase.
"He was eastbound on Cartier near Highway 15," Const. Nathalie Lorrain told The Suburban. "The officer drove behind the car and turned on his flashers, but he didn't stop. So he put on the siren and signaled the driver to pull over."
"The driver accelerated beyond the speed limit, passing through stops at successive intersections," she said. "After driving about one kilometre down Cartier, the car turned on Desmarteaux—a dead end. After the car struck a snow bank at the end of the street, the driver fled on foot."
"Other nearby patrol cars converged on the scene and quickly closed a perimeter," Const. Lorrain continued. "Among them was canine squad commander Lt. Benoît Martel and his dog Boots, who found the driver hiding in a cedar hedge."
The following day the accused, a 16-year-old Montreal boy was charged in Laval youth court with possession of a car that had been stolen in Laval, March 6, as well as a small quantity of hashish and various Highway Code infractions.
Another arrest for Laval police dog Boots and Lt. Benoît Martel.
Booze burgled
Thieves broke into the liquor store at 5040 Robert Bourassa around 1 a.m., March 26, and made off with some $5,000 worth of spirits.
"Security cameras captured them leaving in an older model grey sedan," reported Sgt. Frédéric Jean. "They put the spirits in huge bags."
Sgt. Jean said that Laval Police are working with their Mirabel colleagues, following a similar infraction in St. Canut, an hour later.
Postie foils thieves
Vimont residents must be pleased that Canada Post hasn't cut off their home mail delivery yet.
On March 19, a mailman making his deliveries along Lunebourg, near René Laennec, adjacent to the Cité de la santé superhospital, spotted three young men whom he thought looked suspicious.
"At one point he saw one of them checking around the neighbourhood, while the other two entered a sport utility vehicle (SUV) and backed into a driveway," recalled Const. Lorrain. "A few minutes later he saw them bringing goods out of the house and placing them in the SUV, so he called 911."
"When the SUV departed, the mailman noted the license plate number, enabling the police cars that converged on the scene to intercept the SUV," she added.
"The three suspects, aged about 20, 22 and 40, didn't resist arrest," said Const. Lorrain. "They were not Laval residents, and not known to police."
"Investigators found jewelry, electronic game consoles and a small document safe," she concluded. "The suspects were charged with breaking and entering and possession of stolen goods."
Attempted murder in Chomedey
Neighbours called 911 around 9:35 p.m., March 19, after they heard shots ring out at an apartment building at 5025 Samson.
"When police officers arrived, they found a 32-year-old Asian man who had suffered a single shot in the abdomen," said Const. Lorrain. "Urgences santé brought him to the trauma centre at Sacré Cœur hospital, where he underwent an operation and is expected to survive, though he remains in critical condition."
"Passersby spotted two suspects who fled on foot into the shadows," she said.
"The victim had previously been arrested in relation to a marijuana grow-op, some time ago," Const. Lorrain added, "so it could have been a drug-related transaction that went sour."
Police impounded the victim's car, after they found traces of illegal drugs.
(function(i,s,o,g,r,a,m){i['GoogleAnalyticsObject']=r;i[r]=i[r]||function(){
(i[r].q=i[r].q||[]).push(arguments)},i[r].l=1*new Date();a=s.createElement(o),
m=s.getElementsByTagName(o)[0];a.async=1;a.src=g;m.parentNode.insertBefore(a,m)
})(window,document,'script','//www.google-analytics.com/analytics.js','ga');
ga('create', 'UA-45892555-1', 'robertfrankmedia.blogspot.com');
ga('send', 'pageview');