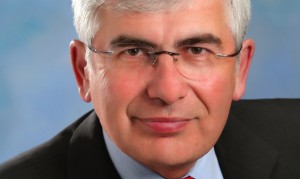 By Robert Frank
www.thesuburban.com
They're young, there's lots of them, they're better educated than immigrants to the United States, and they hold the key to our future wealth, Clément Gignac told hundreds of leading businesspeople from across Canada who gathered in downtown Montreal just before last week's provincial election.
"It's the lynchpin of our prosperity," Industrial Alliance's chief economist told top industry players who attended the annual Montreal Real Estate Forum, together with Mayor Denis Coderre, April 1.
"Regardless of who wins the April 7 provincial election, it's very important that Quebec remain open for business and open to talent," Gignac asserted. "Quebec's demographic decline makes immigrants particularly important to Montreal. The measure of their presence is crucial for us to predict the city's economic prospects."
The good news, he said, is not just that Canada attracts the most newcomers of any OECD country, proportionate to its population. They also have the highest academic qualifications.
"Montreal has done well during the past year or so, compared with other large North American cities," he observed. "At 3.2 per cent, our annual job creation rate ranks Montreal fifth in North America, after Dallas, Houston, Washington and Toronto."
"Nonetheless, our purchasing power hasn't increased as much as other cities, in terms of disposable income per capita," Gignac acknowledged. "GDP growth has also trailed other Canadian cities significantly, though Montreal has held its own against United States cities in that respect."
The Montreal region, which also includes Laval, the South Shore and certain other off-island municipalities, is the economic engine that powers most of the province's wealth.
Three weeks ago, The Suburban reported that immigrants comprise half the welfare recipients in Laval, Quebec's third-largest city. Despite their advanced education and willingness to learn and work in French, employers have systematically spurned newcomers to the country.
Employment Quebec has already begun efforts to sensitize employers to the merits of hiring immigrant workers, given the growing proportion of the province's population of aging old stock Quebecers who are rapidly reaching retirement age.
Montreal's non-francophone population recently edged slightly over half the city's residents, and approached 40 percent of neighbouring Laval's populace, according to the 2011 census. At its current growth pace, Laval too could be majority non-francophone when Statistics Canada tallies the next census in 2016.
"Quebec's demographic decline makes immigrants particularly important to Montreal," Industrial Alliance chief economist Clément Gignac told business leaders.
(function(i,s,o,g,r,a,m){i['GoogleAnalyticsObject']=r;i[r]=i[r]||function(){
(i[r].q=i[r].q||[]).push(arguments)},i[r].l=1*new Date();a=s.createElement(o),
m=s.getElementsByTagName(o)[0];a.async=1;a.src=g;m.parentNode.insertBefore(a,m)
})(window,document,'script','//www.google-analytics.com/analytics.js','ga');
ga('create', 'UA-45892555-1', 'robertfrankmedia.blogspot.com');
ga('send', 'pageview');