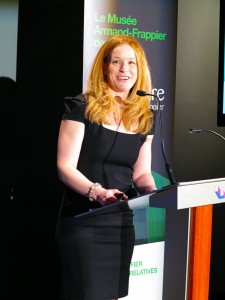 By Robert Frank
www.thesuburban.com
Laval's microbiology museum is bursting at the seams. Overwhelmed by its runaway popularity, the Armand Frappier BioCenter announced last week that it intends to construct a new, much larger, purpose-built museum adjacent to another Laval technology showcase for the general public—the Cosmodome.
"The museum is already attracting 50,860 visitors a year," the museum's beaming CEO Guylaine Archambault told reporters at a news conference, April 10. "The new facility, slated to open in December 2015, will permit us to double that number."
She said that she has asked the Quebec government to pay $3.6 million of the estimated $5 million price tag for the museum's new premises. Laval Mayor Marc Demers added that the city intends to kick in another $1 million, as well as an ongoing $210,000 annual subsidy. It has also asked Heritage Canada and Tourism Laval to kick in another $200,000 each.
"We're confident that we'll get the support that we need to top up the construction budget," Archambault smiled.
Elected representatives were conspicuously absent from the news conference, in the wake of the Quebec election which, three days earlier, ushered out the minority Parti Québécois government. During the preceding election campaign, none of the political parties committed to spend on the project.
Although the project is not connected with Laval's Biotech City, a business incubator that has helped to attract some $1 billion a year to Quebec's third-largest city, Jean-Marc Juteau, who leads the Biotech City, welcomed the museum project.
"It will help interest youth in life science, acquaint them with potential science careers and help them to decide whether that is a path that they would like to consider for their life," he told The Suburban in an interview following the news conference.
Private industry has also jumped on the education bandwagon. Merck Canada spokeswoman Nahel Nasseri used the occasion to announce that the multinational drug colossus will give $250,000 to support the museum's youth programs for the next five years.
The adjacent Cosmodome has also been wildly successful, attracting students from the United States and across Canada (see accompanying report)—as well as from as far away as India—to the country's only NASA space camp.
Radiant Armand Frappier Museum ceo Guylaine Archambault is convinced the new provincial government will agree to pay three-quarters of the cost of new building adjacent to the Cosmodome.
Architect's concept of new BioCentre (green) that the Armand Frappier Museum wants to build adjacent to Cosmodome.