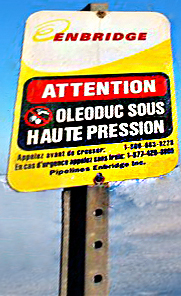 By Robert Frank
www.thesuburban.com
We owe it to OPEC.
In 1973, the Organization of Petroleum Exporting Countries sent Canada and other developed countries reeling by using its cartel power to cut off crude oil supplies.
That sent a shock to East End refineries that had depended on largely Middle East oil coming to Montreal by ship or the Portland, Maine, pipeline.
The alternatives were long, costly and constrained by Canada's climate. It entailed loading Western Canadian crude onto ships in Vancouver and bringing it here through the Panama Canal or, when the Great Lakes weren't frozen, through Ontario via the St. Lawrence Seaway.
Consequently, the Canadian government encouraged the construction of the 639 km Montreal Extension to an existing crude oil pipeline to Ontario, which is now known as Enbridge's Line 9.
It entered operation just before the Montreal Olympics opened in 1976.
Two decades after the initial oil shock subsided, it became more economic to send imported oil westward to Ontario refineries, so the National Energy Board (NEB) agreed to allow the operators to reverse the flow of oil in line 9 in 1999.
Today, however, it's much less expensive to bring Western oil to Montreal. Last August, Enbridge began moving oil eastward from Sarnia, Ontario on the westernmost half of Line 9 (known as 9A). With last week's conditional go-ahead from NEB, the pipeline firm hopes to carry that crude all the way to Suncor's refinery in East End Montreal.
Enbridge has explained that its latest reversal entails "a minor increase in risk." It said that the heavier grade of crude that it is now approved to carry contains a marginally higher (0.5%) volume of sediment and water, but cited a 2013 National Academy of Sciences study that concluded that it isn't more likely to corrode or erode the steel pipeline than the other categories of crude that Enbridge ships.
The NEB acknowledged "concerns that there is an evaluated qualitative 2.2% increase in risk along the pipeline."
However, it concluded that since there won't be a change in the pressure inside the pipeline "Enbridge should [be able to] manage these risks effectively."
(function(i,s,o,g,r,a,m){i['GoogleAnalyticsObject']=r;i[r]=i[r]||function(){
(i[r].q=i[r].q||[]).push(arguments)},i[r].l=1*new Date();a=s.createElement(o),
m=s.getElementsByTagName(o)[0];a.async=1;a.src=g;m.parentNode.insertBefore(a,m)
})(window,document,'script','//www.google-analytics.com/analytics.js','ga');
ga('create', 'UA-45892555-1', 'robertfrankmedia.blogspot.com');
ga('send', 'pageview');