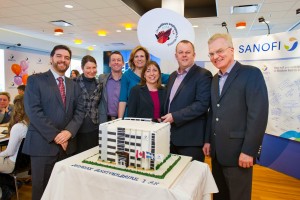 By Robert Frank
www.thesuburban.com
Relocating in Laval last year helped pharmaceutical giant Sanofi garner laurels as the top employer in the city and rank among the best places to work in Canada.
Sanofi CEO Jon Fairest delighted employees by announcing the award, Feb. 5, during a gathering to mark the anniversary of the firm's move to its new Laval headquarters building.
Fairest told employees that he had already witnessed signs of Sanofi's increasing status as an attractive prospective employer.
"There has been a growing number of people who have contacted the company looking to work here. We think our reputation plays an important part in this," he said.
"We conducted a major satisfaction survey following our headquarters move," Sanofi spokeswoman Catherine Cunningham told The Suburban in an interview. "The results were quite positive."
"People were pleased to have been engaged early on in the process planning and executing the move," she said, "right down to the colours of the floor."
"The physical workplace and atmosphere certainly plays a part," she added. "Being in a new building that contains a lot of windows that allow light to enter certainly contributes to a more agreeable work environment. The open concept also permits better communication by reducing physical barriers to working as a team."
Sanofi is also striving to achieve an environment-friendly standard known as LEED for its new headquarters building. LEED-certification is known in the commercial real estate industry to increase a building's occupants' attractiveness to potential recruits.
Cunningham added that Sanofi's track record for training and skill development also helped it to earn its top ranking, as well as the opportunities that it offers for career progression.
"Sanofi has had its headquarters in Laval since 1968," she said. "It has developed its intelligence here and is confident in saying that it intends to remain in Laval for a long time, building upon that intelligence out of the Laval office and looking to grow that expertise."
"We have an excellent relationship with the municipality as well as with the Biotech City and we want to build upon those positive alliances," she concluded.
Mediacorp Canada, which bestowed the award, also gave Sanofi top marks for its generous paternity and maternity leave, flexible work schedule, vacation time and fringe benefits.
Knife in hand, Jon Fairest marked the anniversary of Sanofi's move to a new Laval headquarters building by announcing that the drug giant now ranks among Canada's top employers. Joining the CEO at the double celebration in the company's cafeteria were Sanofi staffers (left to right) Robert Quesnel, Victoria Vertesi, Richard Gregoire, Joanne Kennedy, Liane Laurin and Alain Fortier.