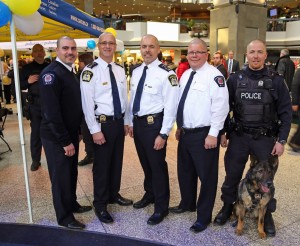 By Robert Frank
www.thesuburban.com
Laval Police and 9-1-1 call centre staff shaved their locks off last week to help raise money for cancer research.
Besides showing solidarity with cancer patients, who often temporarily lose their hair during treatment, the police officers recruited sponsors for their brief gesture of baldness.
During their Cops Against Cancer kickoff downtown at Complexe Desjardins in downtown Montreal, Feb. 7, Laval Police handed over $11,500 that they had raised from friends, family and colleagues, to fight the deadly disease.
According to Sgt. Frédéric Jean, that's just the start. Police officers are hoping that the public will follow their lead and contribute to the cause.
"The campaign will be continuing throughout the month, so you have until Feb. 28 to make a donation," Sgt. Jean told The Suburban. "To do so, simply go online and visit the Cops Against Cancer web page by typing www.bit.ly/K013Mq in your web browser."
"In the meantime, we would like to congratulate everyone who was involved and thank all those who have already contributed," he concluded.
Across Canada, similar shave-a-thons have raised more than $50 million to advance the Canadian Cancer Society's research, prevention programs and support services.
Laval's new Police Chief Pierre Brochet (centre) led by example and shaved his head bald to raise $11,500 for the Canadian Cancer Society, Feb. 7, together with (left to right) 9-1-1 operator Michel Kanou, Deputy Chief Michel Guillemette, 9-1-1 operator Patrick Farmer and canine squad Sgt. Éric Dubé, who was joined by his still-furry partner Narco. Now they're asking you to follow suit and donate too. The haircut is optional.
(function(i,s,o,g,r,a,m){i['GoogleAnalyticsObject']=r;i[r]=i[r]||function(){
(i[r].q=i[r].q||[]).push(arguments)},i[r].l=1*new Date();a=s.createElement(o),
m=s.getElementsByTagName(o)[0];a.async=1;a.src=g;m.parentNode.insertBefore(a,m)
})(window,document,'script','//www.google-analytics.com/analytics.js','ga');
ga('create', 'UA-45892555-1', 'robertfrankmedia.blogspot.com');
ga('send', 'pageview');