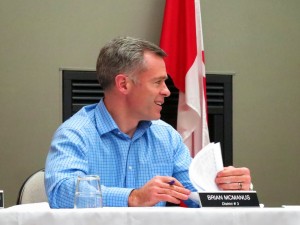 By Robert Frank
www.thesuburban.com
In a dramatic reversal, Senneville city council put on an impressive display of unity, Feb. 3, voting unanimously to bid on a 60-acre swath of mostly undeveloped land owned by the Crown.
The contrast with last month's council meeting, during which disgruntled city councilors and citizens were baying for Mayor Jane Guest's resignation, could not have been more stark.
During this week's special meeting, the council approved an initiative spearheaded by District 3 Councilor Brian McManus that will permit the city to submit a bid to buy the land, before the Monday, Feb. 10, deadline for submissions.
Since last month's debacle, many dismayed citizens voiced their wish for their elected officials to govern, rather than squabble.
"We all knew that we had to leave the past behind and move forward," Mayor Guest told The Suburban in an interview. "We're there to do the job that we were all elected for and we have to work together. Otherwise it will be very disruptive for the village."
The citizens who packed council chamber voiced their approval of the unity that they witnessed during the Monday night meeting with a rousing round of applause when it adjourned.
Guest spoke well of her erstwhile opponents, observing that most of the work on the village's urban plan had already been done by the previous council.
"They are upstanding citizens who wanted to do what is best for the community," she said. "We all bring something different to the table. If we work together, we can achieve good things together. This is a great opportunity for the community to come together and start healing. If it works, it will give all of us a common goal to work toward."
Most land to be resold
Councilor McManus explained that the city does not plan to keep most of the land, if its bid is successful.
"It will give us control of our destiny," added Mayor Guest. "We would sell the land our own terms to whomever on a limited timetable."
"It will not only be green space," she explained, outlining the need to support Senneville's aging population, "as long as it makes sense for taxpayers. Senneville is one of the few communities not to have seniors' accommodation for residents who have lived here 30-40 years but can no longer handle maintaining their property."
"As much as some people want to keep all the green space, we need to get more tax revenue, ideally from a non-resident, for example research and development at the top of Highway 40," Mayor Guest declared. "The only access would be via Highway 40, which will not affect Senneville's residential area, in terms of traffic.
"Below the creek, we anticipiate limited development, ideally addressing seniors needs with small scale housing appropriate to Senneville's character," she said. "Otherwise, if the land isn't sold to community, it could be anybody's to develop."
Profit projected
Councilor McManus told
The Suburban
following the council meeting that the city ought to know by mid-March whether its bid was successful. He underscored that Senneville's offer is conditional on public acceptance, and that all details of the transaction would be put on the public record for citizens to vote upon.
"The process could take 6-9 more months, if Canada Lands approves our bid in March," he explained. "The intent is to acquire the land to dispose of it within a three-year timeframe."
If the city's initiative is successful, Senneville anticipates a profit from the subsequent sale of the land, which it has proposed to split with the federal agency.
"We hope they will accept the offer and follow through on their community-spiritedness," concluded Mayor Guest.
District 3 Councilor Brian McManus spearheaded an initiative that has united Senneville's formerly fractious city council.
(function(i,s,o,g,r,a,m){i['GoogleAnalyticsObject']=r;i[r]=i[r]||function(){
(i[r].q=i[r].q||[]).push(arguments)},i[r].l=1*new Date();a=s.createElement(o),
m=s.getElementsByTagName(o)[0];a.async=1;a.src=g;m.parentNode.insertBefore(a,m)
})(window,document,'script','//www.google-analytics.com/analytics.js','ga');
ga('create', 'UA-45892555-1', 'robertfrankmedia.blogspot.com');
ga('send', 'pageview');