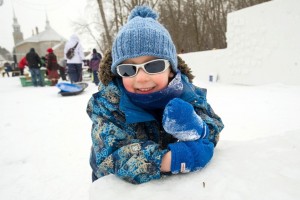 Sainte Rose en Blanc to welcome 35,000 visitors
By Jim Morrison
www.thesuburban.com
It's the heart of winter. It is cold, and there is white all around. What better antidote, then to bask in the warmth and compassion of the people putting on Ste. Rose en Blanc's winter fest of entertainment?
Laval will host its annual five-day celebration, from Feb.1-9, which will have citizens moving to the rhythm of the festivities.
All activities are family-oriented and free to all. There is a snowstorm of diversions, which include events such as snow sculpture, sleigh rides, dog sledding, ice fishing, zumba, curling, dinner, dancing, music and fireworks.
It allows you to discover the Vieux Ste. Rose district, with its culture and heritage, while celebrating the joy of winter in a diverse, original, festive and magical atmosphere.
"Ste. Rose en Blanc is an opportunity for citizens to socialize in an environment reminiscent of the holidays of yesteryear. This is an opportunity to discover the wonderful facilities and beautiful areas of Laval while taking in fresh air. It's like a village festival," Michel Trottier, Fabreville district municipal councillor told The Suburban.
"We welcomed over 34,000 visitors last year, and are expecting more this year."
"We are excited about our snow sculpture exhibit which will illustrate life from the 1920s," said city spokeswoman Julie Tremblay.
More information is available on the festival's page on the city's website: sainteroseenblanc.laval.ca
Young Laval resident enjoying Sainte Rose en Blanc
Dance troupe performs during Sainte Rose en Blanc 2012.
(function(i,s,o,g,r,a,m){i['GoogleAnalyticsObject']=r;i[r]=i[r]||function(){
(i[r].q=i[r].q||[]).push(arguments)},i[r].l=1*new Date();a=s.createElement(o),
m=s.getElementsByTagName(o)[0];a.async=1;a.src=g;m.parentNode.insertBefore(a,m)
})(window,document,'script','//www.google-analytics.com/analytics.js','ga');
ga('create', 'UA-45892555-1', 'robertfrankmedia.blogspot.com');
ga('send', 'pageview');