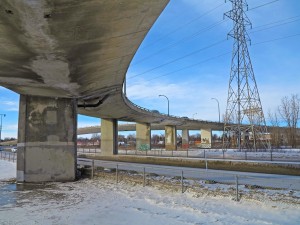 Slated for replacement this year
By Robert Frank
www.thesuburban.com
Transport Quebec workers repaired the ramp that links Sources Boulevard to eastbound Highway 20, Jan. 14—the day after large chunks of concrete fell from the Henri Bourassa overpass onto Highway 40.
Sources was the only West Island overpass that didn't pass muster, after Quebec Transport Minister Sylvain Gaudreault ordered emergency inspection of bridges throughout the province, to help prevent a recurrence.
Locus of decay
The assessment found that 47 of the 605 bridges that were evaluated needed immediate "intervention"—11 of them in Montreal, with most within a 10 km distance of one another. Transport Quebec has studiously avoided using the word 'repairs' to describe last week's work.
"It wasn't a repair," asserted spokeswoman Sarah Bensadoun. "We basically removed concrete that might have been loose."
"This is similar to what was done [the day before] on the Henri Bourassa overpass," she told The Suburban. "We inspect every structure that poses a risk of delamination up to four times a year."

2014 best-before date
Bensadoun confirmed that the Sources overpass is slated for replacement this year. Last year, The Suburban reported that Transport Quebec had submitted drawings to Pointe Claire, Dorval, Montreal, Société des transports de Montréal and Agence Métropolitain de Transport.
Bensadoun confirmed that Transport Quebec is awaiting the result of technical, hydrological and geotechnical studies, in order to proceed.
"We still don't have any confirmation whether it will be repaired or rebuilt," she added.
Pointe Claire Mayor Morris Trudeau said that he has not yet been shown Transport Quebec's plans for the Sources overpass.
"I haven't seen it yet," he told The Suburban. "[Former Mayor Bill] McMurchie and [Dorval Mayor Edgar] Rouleau might have seen the plan, and from what I was told back then, it was a very preliminary plan."
"Obviously if Transport Quebec says that there is something wrong with the overpass and they're going to repair it in 2014, I hope that they repair it in 2014," he added.
Weight on city budget
Mayor Trudeau confirmed that Pointe Claire will spend $2.2 million this summer to repair another overpass that spans Donegani Avenue.
On July 6, 2012, the span released a base ball-sized chunk of concrete from St. Jean Boulevard onto the street below. No one was injured in the incident.
The Quebec government saddled the city with the bridge in 1993, as part of a move to make the budget deficit appear to shrink, by foisting former provincial infrastructure—and their eventual maintenance costs—onto cities and towns throughout Quebec.
Crews made emergency repairs, Jan. 14, to the ramp that bears Sources Boulevard traffic onto eastbound Highway 20. Transport Quebec has slated the span for replacement in 2014.
(Photo © Robert Frank)
Pointe Claire residents will pay $2.2 million to repair the Donegani overpass this summer—two years after it dropped a baseball-sized chunk of concrete on the roadway below.
(Photo © Robert Frank)
Donegani overpass supports, Jan. 20, 2014.
(Photo © Robert Frank)
(function(i,s,o,g,r,a,m){i['GoogleAnalyticsObject']=r;i[r]=i[r]||function(){
(i[r].q=i[r].q||[]).push(arguments)},i[r].l=1*new Date();a=s.createElement(o),
m=s.getElementsByTagName(o)[0];a.async=1;a.src=g;m.parentNode.insertBefore(a,m)
})(window,document,'script','//www.google-analytics.com/analytics.js','ga');
ga('create', 'UA-45892555-1', 'robertfrankmedia.blogspot.com');
ga('send', 'pageview');