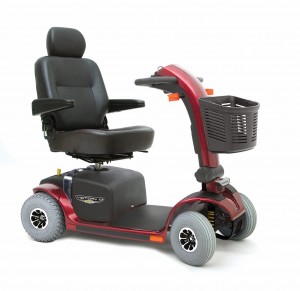 Mobility devices currently operate in legal void
By Robert Frank
www.thesuburban.com
With personal mobility devices proliferating on the province's sidewalks and roads, Transport Quebec is proposing to introduce rules that will govern how they're used.
The battery-powered vehicles have been a boon to the mobility impaired, permitting them to live much more independent lives. However, Quebec's aging population means that a growing number of users will be taking to the streets.
The new, souped-up wheelchair scooters that manufacturers are showcasing this year also operate in a legal vacuum that could increasingly pose a safety hazard. Chevrolet started testing its carlike EN-V 2.0 in China, two years ago and, late last year, Toyota let automotive journalists road-test its new, three-wheeled iRoad, which can reach 45 km/h and travel up to 50 km on a single battery charge,.
"Right now in Quebec there are no rules," Transport Quebec official David Johnson told
The Suburban
in an interview. "Unlike bicycles, motorized mobility devices are not defined in the highway safety code. With more and more people needing these vehicles to get around, we are witnessing problems with them cohabiting with pedestrians on the sidewalk. They are often heavy and travel a lot faster than pedestrians, so dangers can arise."
Lacking a law to enforce, highway patrollers frequently fret for people's safety.
"Police are concerned about those vehicles and the safety of the people who use them," Laval Police Lt. Daniel Guérin told
The Suburban.
"Sometimes they must share a small street with a lot of big cars. We have seen some of Labelle Boulevard and even once on the Highway 40 service road near René Laennec. We will be following the new Quebec government initiative closely."
"The Ministry is working with its partners to create rules that will improve cohabitation and the ability for users to get around," explained Johnson, who is Transport Quebec's point person for public consultations on the provincial government's plans to regulate the vehicles. "Basically, users can ride on the sidewalk wherever they are. It's very important that they respect pedestrians and not go too fast or drive in a way that could endanger them."
"We're also proposing giving them the right to use roadside and standalone bike paths," he added, "as well as giving them the right to drive on roads whose speed limit is 50 km/h or less, except on roads where there are two or more lanes in each direction."
"On roads where the speed limit is from 50-70 km/h, they would have the right to travel on the sidewalk or shoulder," Johnson continued.


"Travel in rural areas is a contentious issue," he acknowledged.


"We have proposed that they can't travel on roads where the speed limit exceeds 70 km/h and there's no sidewalk, because of the obvious safety concerns where other vehicles are rolling at 90 km/h. Ultimately, our primary concern is safety."


"The public has until Feb. 14 to comment on the proposed rules," he said, "which are published on the Transport Quebec web site."
A car or a wheelchair?
From this…
…to this:
New technology which permits the Toyota iRoad to reach 45 km/h promises to give the mobility impaired more freedom to nip nimbly around town.
Video of the iRoad in the south of France, where Toyota is testing the personal mobility vehicle.
Chevrolet EN-V 2.0.
Chevrolet tested EN-V 2.0 in China.
(function(i,s,o,g,r,a,m){i['GoogleAnalyticsObject']=r;i[r]=i[r]||function(){
(i[r].q=i[r].q||[]).push(arguments)},i[r].l=1*new Date();a=s.createElement(o),
m=s.getElementsByTagName(o)[0];a.async=1;a.src=g;m.parentNode.insertBefore(a,m)
})(window,document,'script','//www.google-analytics.com/analytics.js','ga');
ga('create', 'UA-45892555-1', 'robertfrankmedia.blogspot.com');
ga('send', 'pageview');