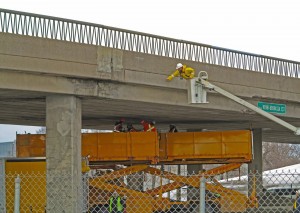 Concrete falls from overpass




By Robert Frank
www.thesuburban.com
Our crumbling infrastructure made news once again this past Monday. A chunk of decaying concrete fell on a car negotiating the Henri Bourassa overpass, at 11:37 a.m., Jan. 13. Other fragments that had fallen to the roadway punctured the tires of other passing vehicles, before Sûreté du Québec closed westbound Highway 40.
Fortunately, no one was reported injured by the fallen concrete.
The Suburban observed Transport Quebec emergency crews inspecting rusting reinforcing rods beneath the structure that have been left exposed by the crumbling concrete over the years.
The bridge, adjacent to St. Laurent's Technoparc, is the latest West Island span to fragment.
Pointe Claire is planning spend $2.2 million to repair the St. John overpass spanning Donegani this summer, after the span released a baseball-sized chunk of concrete on July 6, 2012. The provincial government forced the city to take ownership of the bridge two decades ago, as part of a political maneuver to lower the provincial budget deficit.
In addition, Transport Quebec told The Suburban last year that it has circulated a proposal to replace the similarly decaying Sources overpass spanning Highway 20. Transport Quebec spokeswoman Caroline Larose said technical, hydrological and geotechnical studies are underway, and that concept drawings were sent to Pointe Claire, Dorval, Montreal, Société de Transports de Montréal and Agence métorpolitain de transport officials to get their input.
Since the Parti québécois minority government came to power in 2012, major infrastructure work throughout the West Island has stagnated. The region is sprinkled with bridges to nowhere in Dorval, highway overpasses in Sainte Anne de Bellevue remaining closed after more than two years and no movement on the previously approved extension of Highway 440 from Pierrefonds to Highway 40 in Kirkland.
Sûreté du Quebec closed Highway 40 while bridge inspectors check Henri Bourassa overpass, after concrete fell, striking passing vehicle.
(Photo © Robert Frank)
(function(i,s,o,g,r,a,m){i['GoogleAnalyticsObject']=r;i[r]=i[r]||function(){
(i[r].q=i[r].q||[]).push(arguments)},i[r].l=1*new Date();a=s.createElement(o),
m=s.getElementsByTagName(o)[0];a.async=1;a.src=g;m.parentNode.insertBefore(a,m)
})(window,document,'script','//www.google-analytics.com/analytics.js','ga');
ga('create', 'UA-45892555-1', 'robertfrankmedia.blogspot.com');
ga('send', 'pageview');