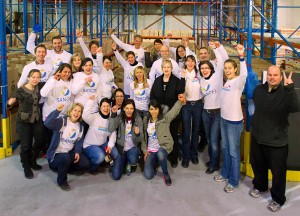 By Robert Frank
www.thesuburban.com
Inspired by their colleagues' experience in 2012, more than twice the number of staff from Sanofi's Laval headquarters took time off, last week to help Moisson Laval provide for the city's neediest during the holiday period.
"We worked in two shifts during the morning and afternoon, to prepare Christmas baskets," the pharmaceutical firm's spokeswoman Joanne Kennedy told The Suburban in an interview. "Even our CEO came out and did a lot of heavy lifting, putting food into trucks and really getting involved."
"Our people are so into it," she said. "They were saying 'How fast can we do this so we can make even more Christmas baskets?' One of the supervisors had to slow us down at one point, because our people were so enthusiastic."
"We heard the stories about what these baskets mean to the people who receive them and their families," Kennedy added. "It was an important reminder of why it's important to make a contribution."
The baskets were delivered to about 4,000 people in 1,850 Laval households, on Sunday, Dec. 22.
"We had 400 volunteers either on the road or helping to load cars all day long," Moisson Laval deputy CEO Jean Gagnon told The Suburban.

"We get so much demand that it's hard for us to respond to more," he explained.
"The limiting factor is physical space: the size of Moisson Laval's warehouse," Gagnon explained. "If we brought in any more food, it would paralyze operations."
"Metro, IGA, and Couche Tard helped a lot by donating fresh fruit and vegetables," he said.
Gagnon added that a flood of volunteers from Laval businesses and other organizations made a decisive difference this year.
"To prepare the Christmas baskets, we usually have to shut down for two weeks the emergency food aid that we provide throughout the year to about 150 different families per week," he said.
"It was touching," Gagnon observed. "Food banks across Quebec are struggling, but in Laval, we're strong. We have a good network and the support of the business community here. We work very hard, but to have all these people come forward at this time of year is truly motivating. It inspires us to do even more."

Some five dozen Sanofi employees participated in Moisson Laval's holiday food drive—more than double the number last year.
(function(i,s,o,g,r,a,m){i['GoogleAnalyticsObject']=r;i[r]=i[r]||function(){
(i[r].q=i[r].q||[]).push(arguments)},i[r].l=1*new Date();a=s.createElement(o),
m=s.getElementsByTagName(o)[0];a.async=1;a.src=g;m.parentNode.insertBefore(a,m)
})(window,document,'script','//www.google-analytics.com/analytics.js','ga');
ga('create', 'UA-45892555-1', 'robertfrankmedia.blogspot.com');
ga('send', 'pageview');