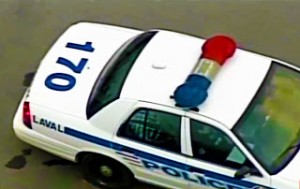 By Robert Frank
www.thesuburban.com
Better destroy and delete all your photos of your toddler taking a bath.
When Canada's criminal justice system swooped down in dawn raids on ten teen Laval boys aged 13-15, Nov. 14, it stirred hornet's nest of questions about the intent and application of the country's child pornography laws.
The charges have attracted worldwide attention and how they affect jurisprudence might one day have to be settled by the Supreme Court. The law so broad-ranging in its definition of child pornography—images of the genitals of anyone under 18—that courts could interpret innocent imagery in most people's photo albums as salacious.
Boys and girls are supposed to be equal before the law, yet only the boys have been charged, despite acknowledgement that it was the girls who took and transmitted the saucy photos of themselves—actions that under the Criminal Code could be considered just as illegal as possessing and publishing those same images.
Sir Wilfred Laurier School Board spokeswoman Maxeen Jolin corroborated reports that the girls have alleged that peer pressure prompted them to take and transmit the saucy images.
Since making and conveying child pornography is illegal, this raises the question as to what extent peer pressure exculpates an individual from a crime, as well as to whether peers consenting to share explicit photos ought to be criminalized.
Another question is whether laws that most people thought were meant to prevent perverts from exploiting the innocent are being used as a sledgehammer against puerile prurient interest in peers that has remained unchanged since biblical times.
According to Laval Police Const. Nathalie Lorrain, the frenzy started after a school official spotted one of the boys "showing sexually explicit photos of seven young girls."
Girls' parents enraged
"Their parents were called in," she said, "We identified the girls and went to their homes. Most of the girls said 'I didn't send this boy my picture; I sent it to my boyfriend or some other guy.' Some of the boyfriends asked their girlfriends to send them sexually explicit photos. The network of ten boys would then share it among themselves. Just from the fact that they were sharing the pictures, it is pornography. That is how we can accuse them of distribution, fabrication and possession. Those are the charges that will be laid under the Criminal Code."
"There was no evidence that they were selling the photos," Const. Lorrain continued. "There was no intimidation. No threat. But they were very insistent at some points."
However, the Criminal Code doesn't require any pecuniary interest for naughty photos to qualify as kiddie porn. Moneymaking only comes into play when it's time to sentence someone who has been convicted.
She added that the arrests have nothing to do with juvenile prostitution.
"Juvenile prostitution is still a problem in Laval, but there's no connection in this case."
"One of the girls who didn't want to send her picture thought that she would be protected by using [a service called] Snapchat," she explained. "The image appears on the phone for ten seconds, then disappears—but the boys [circumvented that by] taking screen captures."
"The parents are very mad at the girls," Const. Lorrain said. "That is why we acted fairly quickly. We wanted to stop the spread of the pictures before it went too far and too many people had their hands on them. We wanted this to be big to pass the prevention message to parents about what can happen."
Indeed, police can file child pornography charges merely if they find an offending photo on your computer. That dimension of the law makes it easy in theory to incriminate someone simply by remotely planting illegal images on their computer—a phenomenon that has already reared its ugly head in the United States—an Internet attack which is fiendishly hard to prove.
Police have seized the computers, tablets and Smartphones they found when they raided the boys homes last week.
Jolin said that while the Sir Wilfred Laurier School Board awaits the outcome of the ongoing police investigation, it has initiated a series of seminars for concerned high-school parents.
"It's called Parenting a 21st-century teen," she said.
Laval Police arrested ten young teen boys, Nov. 14, after girlfriends told their parents and police that they had been pressured into taking and transmitting salacious photos of themselves.
(function(i,s,o,g,r,a,m){i['GoogleAnalyticsObject']=r;i[r]=i[r]||function(){
(i[r].q=i[r].q||[]).push(arguments)},i[r].l=1*new Date();a=s.createElement(o),
m=s.getElementsByTagName(o)[0];a.async=1;a.src=g;m.parentNode.insertBefore(a,m)
})(window,document,'script','//www.google-analytics.com/analytics.js','ga');
ga('create', 'UA-45892555-1', 'robertfrankmedia.blogspot.com');
ga('send', 'pageview');