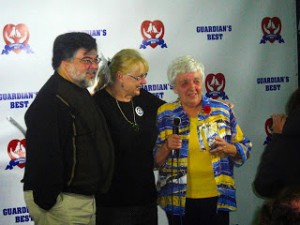 By Robert Frank
www.thesuburban.com
During a ceremony at the Monkland Community Centre in Notre Dame de Grâce, Nov. 9, the Canadian Society for the Prevention of Cruelty to Animals officially honoured Chomedey resident Gertrude (Gerdy) Cox-Gouron for a lifetime of caring and finding homes for vulnerable, abandoned, starving and often mistreated pets.
Cox-Gouron rescued her first cat when she was two years old, bringing the neighbour's pet home because she thought it was lost.
When she was nine, she opened all the cages at the St. Laurent pharmaceutical lab where her father was employed to care for the animals that she released. Cox-Gouron never returned.
For almost two decades, following the death of her husband, Cox-Gouron has operated Gerdy's Rescues and Adoptions, the charity that she founded to help domestic animals.
"I was a little scared when I started out, because I didn't know how I would pay for boarding, but it turned out pretty well because the public supported what I was trying to do," Cox-Gouron told The Suburban in an interview.
Some of the animals that she helps are in pretty bad shape.
"I rescued a dog that had been thrown out of a window," she said.
Over the years, Gerdy's Rescues and Adoptions has found homes for more than 2,500 dogs and cats, as well as other kinds of animals such as a llama, snakes, rabbits and even a mouse.
Most would otherwise have been euthanized because of their age, amputations, abuse or injuries.
Cox-Gouron has also had a prominent role as an animal rights activist, protesting against puppy mills.
Since surviving lung cancer surgery two years ago, Cox-Gouron has left the most vigorous work involving chasing and holding animals to her six volunteer supporters.
"Rescue work is exhausting, going to veterinarians, doing adoptions and delivering pet food to the needy," she said. "My greatest satisfaction, though, comes from finding adoptive homes for the pets of the terminally ill."
"We take all our animals to the vet for a checkup, ensure that they're spayed or neutered and test them for heartworm," Cox-Gouron added. "We've treated all 14 dogs that tested positive. It's quite expensive."
Gerdy's Rescues and Adoptions can be reached at [514] 203-9180. Donors can contribute via the internet or PayPal, or by mailing a cheque to the charity at Box 21, Westmount, Quebec H3Z 2V4.
The SPCA bestowed its Lifetime Achievement Award to Gerdy Cox-Gouron (right), Nov. 9, for her work saving and finding loving homes for abandoned and abused pets.
(function(i,s,o,g,r,a,m){i['GoogleAnalyticsObject']=r;i[r]=i[r]||function(){
(i[r].q=i[r].q||[]).push(arguments)},i[r].l=1*new Date();a=s.createElement(o),
m=s.getElementsByTagName(o)[0];a.async=1;a.src=g;m.parentNode.insertBefore(a,m)
})(window,document,'script','//www.google-analytics.com/analytics.js','ga');
ga('create', 'UA-45892555-1', 'robertfrankmedia.blogspot.com');
ga('send', 'pageview');