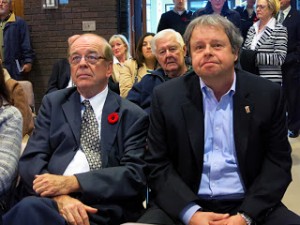 Angell Woods militancy tipped tight outcome
By Robert Frank
www.thesuburban.com
Last-minute support from outgoing Mayor David Pollock and the Association to Protect Angell Woods (APAW) pushed George Bourelle to victory, Nov. 3, in a tight mayoralty race with District 6 city Councillor Rhonda Massad.
Heavy campaigning by APAW saw the municipal election turned into a referendum on the future of Angell Woods—a tract of mostly privately held land in northwestern Beaconsfield that has long been zoned for residential development.
Bourelle tipped the balance by widely circulating an APAW statement, Nov. 1, which used agitprop terminology to lash out at "politicians, absentee land owners, speculators, real estate agents, and potential purchasers of the land that the citizens of Beaconsfield want to keep [as] their green space for the good of all, rather than carve it up and sell it for the profit of a few speculators."
Pollock, like Massad and District 3 Councillor Wade Staddon, was also an APAW member before his election in 2009.
Bourelle nonetheless told The Suburban in a midnight interview, immediately after he was elected, that he favours moving forward with the plan advanced by the previous city council. That proposal would preserve at least 80 per cent of Angell Woods in perpetuity, while permitting low-footprint residential housing right next to the Woodland commuter train station.
"Certainly that would be the way I would like to go," Bourelle declared, "but I don't want to commit before I have had a chance to talk to my council."
"I want to go back to the negotiations that started in June when the president of the Montreal executive committee indicated clearly that Montreal was prepared and willing to pursue negotiations," he added. "It got scuttled. We'll go back to square one. There will be some new people [who have just been elected] in Montreal as well."
"The councillors have to be right behind me on that, so if we come up with a huge consensus, then we negotiate," Bourelle added.
With 47.1 per cent of eligible voters casting ballots in Beaconsfield's mayoral contest, Bourelle won by just 259 votes.
"I am proud that I ran a clean campaign as did my team," said Massad, in conceding defeat. "I hope that my children will follow in our footsteps and learn that even though you might not win, if you play cleanly you can always remain proud."
Mostly newcomers
With only two incumbent councillors reelected, Beaconsfield city council will have a new face when it next meets, Nov. 18.
District 4 Councillor Pierre Demers trounced his opponent by 685 votes in winning re-election, though Wade Staddon won a tight race, returning to represent District 3 by a 31-vote margin.
Newcomer David Pelletier won District 1 by 186 votes; Karen Messier returned to council after a four-year absence, winning District 2 by a 389-vote margin; Roger Moss was elected in District 5 by 58 votes; and Peggy Alexopoulos, who will succeed Massad in District 6, was elected by a wide, 484-vote margin.
An eleventh-hour endorsement from outgoing Beaconsfield Mayor David Pollock (right) helped to elect incoming Mayor George Bourelle (left). The pair sat together in city council chamber near midnight, Nov. 3, to watch the final results of the municipal election roll in.
(Photo © Robert Frank)
(function(i,s,o,g,r,a,m){i['GoogleAnalyticsObject']=r;i[r]=i[r]||function(){
(i[r].q=i[r].q||[]).push(arguments)},i[r].l=1*new Date();a=s.createElement(o),
m=s.getElementsByTagName(o)[0];a.async=1;a.src=g;m.parentNode.insertBefore(a,m)
})(window,document,'script','//www.google-analytics.com/analytics.js','ga');
ga('create', 'UA-45892555-1', 'robertfrankmedia.blogspot.com');
ga('send', 'pageview');