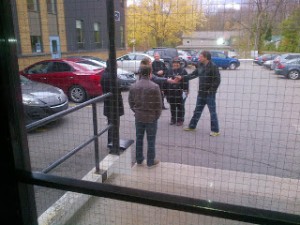 Mouvement lavallois member expelled from polling station


By Geneviève April and Robert Frank
www.thesuburban.com
Laval Police have confirmed that they were called to Laval polling stations to deal with overzealous candidates, after municipal election officials complained about boisterous campaign infractions on Sunday.
"We had to intervene at polling stations in several districts," Sgt. Frédéric Jean told The Suburban. "We received complaints from more than one polling station. Police officers assigned to election-day duty visited those polling stations. Though at some of those polling stations they were requested to go a bit further, no arrests were made."
Multiple infractions were reported involving opposing municipal election candidates who had been politicking vigorously outside polling stations in Abord à Plouffe, Fabreville, Sainte Dorothée, Laval les Îles, Renaud and St. François, which many Laval citizens visited, Oct. 27, to cast their ballot in the advance poll.
"There were several [electoral] infractions, particularly at the start of the day," reported Laval's chief returning officer Guy Collar. "There were candidates standing too close to the polls and posters stuck on the windshields of cars parked outside the polling station.
"Those are campaign tactics that belong to a bygone era, which I find unfortunate," complained the clearly frustrated election official. "It's appalling that well-organized political parties would stoop to actions that would force election authorities to intervene. We ought not to be seeing the likes in this day and age."
At one point, Collar dispatched election staff to admonish candidates to adhere the rules.
"I had to threaten some candidates with an official sanction," he told The Suburban in an interview. "I also had to call the party leaders and insist that they bring their candidates to heel."
In Sainte Dorothée, The Suburban witnessed party candidates crowding polling station doors, competing to shake hands with voters. Some wore their political party identification and were accompanied outside by vehicles conspicuously emblazoned with their party affiliation. When election officials told them that their actions were illegal, they claimed they had no idea that they were not permitted to lurk there. Some bluntly refused to leave, asserting it was their right to greet voters.
"They can't say they weren't informed. That's just impossible," said Collar. "I explained in detail to every candidate what the rules were [when they submitted their nomination papers], and [prior to the advance poll] they all received documents detailing the law: what is permitted and what isn't."
Collar declined to specify which party or independent candidates allegedly broke the election law.
"All I can say is that the vehicles covered with posters that were honking around and in front of the polling stations certainly didn't belong to independents," he said.
The incidents have spurred Collar to contact all 147 candidates this week, in order to prevent a recurrence of the misconduct when most Laval poters go to the polls on election day, Nov. 3.
"In my case, this didn't happen," Mouvement lavallois mayoral candidate Marc Demers told The Suburban. "I haven't had any reports to that effect concerning my team. We were only involved in one incident."
"Our candidates all respect the law," reassured the retired Laval Police officer, who is running on a strong law-and-order platform. "We have the right to be in front of polling stations, that's completely legal. We don't have the right to talk about politics, but we can greet people, thank them for coming to vote, and that's what we did."
"Like most of the other political parties, we had to remove some posters," Demers acknowledged. "In once instance, there was someone who became emotional at the time of the vote and had to be expelled."
Demers declined to say which Mouvement lavallois member was removed.
"We wanted to try to avoid this sort of faux pas," he said. "If we don't respect the law during the campaign, what will it come to once we're elected?"
Politicking outside advance polling station in Sainte Dorothée, Oct. 27.
(function(i,s,o,g,r,a,m){i['GoogleAnalyticsObject']=r;i[r]=i[r]||function(){
(i[r].q=i[r].q||[]).push(arguments)},i[r].l=1*new Date();a=s.createElement(o),
m=s.getElementsByTagName(o)[0];a.async=1;a.src=g;m.parentNode.insertBefore(a,m)
})(window,document,'script','//www.google-analytics.com/analytics.js','ga');
ga('create', 'UA-45892555-1', 'robertfrankmedia.blogspot.com');
ga('send', 'pageview');