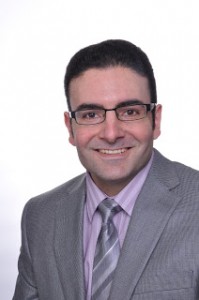 By Robert Frank
www.thesuburban.com
It's time to put an end to banning parking on both sides of city streets after heavy snowfalls, Dennis Konidis told The Suburban.
The Parti au Service du citoyen (PSC) candidate in Souvenir-Labelle has been going door-to-door since May, talking to the district's residents.
"There's a seasonal parking restriction Oct. 1-Apr. 30, regardless of the weather," Konidis observed. "The city claims that this is to make snow clearance operations more efficient but, after blizzards, city workers put no-parking placards on the opposite side of the street as well."
"The result is that you can't park on either side of the street," he continued. "People are complaining about that. [The city] has to choose. One of the PSC's commitments is to do something about it."
Konidis also wants garbage collection to be doubled, from once to twice a week, "especially in the summer months. For families with children, it's just unsanitary for garbage to be piling up."
"Montreal collects its garbage twice a week," he noted, "and Laval used to. The third-largest city in Quebec and 13th-largest in Canada deserves to have twice-weekly garbage collection for its residents."
Souvenir-Labelle residents are also fed up with the city's tree policy, Konidis reported.
"Many of them are having a hard time keeping their trees in good shape," he said. "A lot of old trees are humungous. Branches are falling all over the place and need to be trimmed. The city is not doing anything about it because of Laval's tree code."
"Residents have to assume the cost, even if it's the city's tree," Konidis explained. "They have voiced their displeasure to me. You also need to obtain [permission] from the city to cut down a tree, which basically means that the city doesn't let them do so."
"We're talking about people who would plant a new tree to replace it, but there's too much red tape," he added.
The November municipal election is Konidis' first plunge into politics. The certified financial planner, who grew up in Chomedey, works in his family's firm, helping people to manage their investments and insurance.
"After seeing [former mayor Gilles] Vaillancourt's team win election after election from 1989-2012, I had a sense that something was not right," he recalled. "You could feel there was corruption in the air."
A chance meeting last year with PSC mayoral candidate Robert Bordeleau at Holy Cross Greek Orthodox Church piqued his interest in running for office.
"I was discouraged at seeing the same people winning all the time. It was time for a change in Laval," he said in an interview. "So I met other people in the PSC and thought that we had a very good team. We all have different backgrounds. Everyone brings something to the table. I like this multiethnic group and believe in Robert Bordeleau and his vision for Laval."
Speeding is another issue that Souvenir-Labelle citizens flagged for Konidis. They cited motorists taking shortcuts on the street slinking Souvenir and St. Martin.
"Residents of streets such as Lacroix, Lapalme, Joliette and d'Iena tell me that in the early hours of the morning after midnight, they can hear motorists speeding without stopping," he said. "PSC would install speed bumps there, if citizens want them."
"There are also issues of crime in Souvenir-Labelle," he added. "We often hear about crimes taking place at a McDonald's on Labelle near Notre Dame. People have been targeting seniors in the parking lot, stealing jewelry. I have seen stuff going on there myself. Something needs to be addressed in that area."
Konidis is also calling for the city to add more green space in the district.
"Souvenir-Labelle is not sufficiently aesthetically pleasing to the eye," he asserted. "There should be more parks, more statues and beautification."
"What I am striving for is what I have been told to me by citizens I have met, together with having lived here my whole life," he concluded.
Dennis Konidis says city's costly tree policy is tying residents up in red tape.
(function(i,s,o,g,r,a,m){i['GoogleAnalyticsObject']=r;i[r]=i[r]||function(){
(i[r].q=i[r].q||[]).push(arguments)},i[r].l=1*new Date();a=s.createElement(o),
m=s.getElementsByTagName(o)[0];a.async=1;a.src=g;m.parentNode.insertBefore(a,m)
})(window,document,'script','//www.google-analytics.com/analytics.js','ga');
ga('create', 'UA-45892555-1', 'robertfrankmedia.blogspot.com');
ga('send', 'pageview');