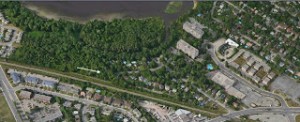 Neighbours still have serious concerns
By Robert Frank
www.thesuburban.com
"It's very clear that we're not going to make a decision tonight," Pierrefonds-Roxboro urban planning committee chair Cathérine Clément-Talbot told residents who filled council chamber, Aug. 12, to find out about a longstanding proposal to build on a vacant lot along the CN commuter rail line.
Owner Jack Wolofsky originally proposed to erect an eight-storey condominium on the site, however the project fell afoul of the city's zoning by-laws.
Architect Nathan Shertzer presented a new, scaled-down proposal at the meeting that would instead see a brick-clad three-storey condominium rise there.
Clément-Talbot told The Suburban that no change in city by-laws would be required to permit this project to move forward.
"The zoning there is for three stories," she confirmed.
Many residents expressed concerned about the impact of putting more vehicles on the neighbourhoods roads, but Clément-Talbot patiently reminded each questioner that such issues would be weighed by the borough's traffic committee at a later date.
A number of citizens also expressed concern about the risk that the building's two-storey underground garage could be flooded, since it is in proximity of the river.
"The city has rigorous rules for buildings that are construct in zones that face a flood risk every 20-100 years," reassured Pierrefonds-Roxboro environment director Suzanne Corbeille. "The basement has to be immunized. It will be completely sealed in, like a bathtub."
"When the city looks into these plans, they have to be checked by professionals, so we take this very seriously," she added.
Shertzer also indicated that the developer will plant rows of evergreen trees to provide privacy to residents of adjacent properties, and help preserve the integrity of the neighbourhood.
Real estate broker Jerry Slutsken, who represents the property, added that the developer would attempt to preserve the 100-year-old trees that line the border of the site.
"No one in their right mind would cut down 100-year-old trees," he emphasized.
Slutsken noted that "the Montreal real estate market has changed dramatically during the past six months."
As a result, he indicated that the proposal, which originally entailed one-bedroom condos, would probably be modified to comprise a smaller number of two- and three-bedroom units that the market is now demanding.
"The building will probably be consolidated to 80-90 units," he said, reducing potential increases in traffic and demand for parking in the neighbourhood.
During the meeting Mayor Monique Worth, who is not a member of the city's urban planning committee, unusually rose to remind the audience that "We've been talking about this project for about ten years."
Corbeil explained to the audience that the urban planning committee will make its recommendation to city council, which will make its decision on the disposition of the property at an unspecified time.
Three-storey building would rise on undeveloped land near Roxboro Island.
(function(i,s,o,g,r,a,m){i['GoogleAnalyticsObject']=r;i[r]=i[r]||function(){
(i[r].q=i[r].q||[]).push(arguments)},i[r].l=1*new Date();a=s.createElement(o),
m=s.getElementsByTagName(o)[0];a.async=1;a.src=g;m.parentNode.insertBefore(a,m)
})(window,document,'script','//www.google-analytics.com/analytics.js','ga');
ga('create', 'UA-45892555-1', 'robertfrankmedia.blogspot.com');
ga('send', 'pageview');