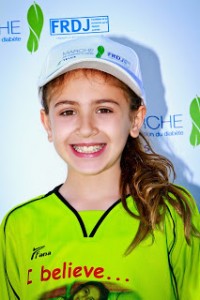 By Robin Della Corte
www.thesuburban.com
This year's annual Telus Walk to Cure Diabetes with Juvenile Diabetes Research Foundation took place June 9, with the hope of reaching its largest fundraising goal ever, a total of $8 million nationally in donations and pledges.
The walk, which also aims to raise awareness and fund research cures and better treatments for Type-1 diabetes, hoped to involve more than 45,000 Canadians from 70 different communities to help reach the new goal.
Each province hosted a major walk, June 9. The Montreal walk started in Laval at Centre de la nature de Laval at 9:45 a.m.
The ambassador of the walk this year was Liana Cianci. The nine-year-old, who was diagnosed with Type-1 diabetes in 2001, cut the ribbon at the start of the race.
"I dream for a cure," Liana said. "So I don't have to give myself injections and be free as possible."
Her mom, Cathy Cianci, explained that she and Liana encouraged their neighbors, friends, family and Liana's classmates to join the walk, which made Liana very happy to see them come show their support.
The event also featured a scavenger hunt, which encouraged walkers be more engaged, by getting them to search for hidden objects along the route. When walkers saw hidden objects, they tweeted photos of them using the official Walk hash tag #TELUSWalk for a chance to win a prize.
"Many who suffer come to the walk," said Telus Health vice-president Eric Bourbeau. "It's a way for people who live with diabetes to celebrate that their progress and quality of life is improving, despite the disease."
This was the sixth year that Telus sponsored the walk.
"Telus invests a lot in health care," Bourbeau emphasized. "We want to help out in communities because we think that a cure will be found in our life time for this disease, a disease that touches more Canadians every year."
Since 2000, Telus has helped raise more than $6.5 million to fight juvenile diabetes.
Nine-year-old diabetes walk ambassador Liana Cianci, who was diagnosed with Type-1 diabetes in 2011, cut the ribbon at the start of the fundraising event.
(function(i,s,o,g,r,a,m){i['GoogleAnalyticsObject']=r;i[r]=i[r]||function(){
(i[r].q=i[r].q||[]).push(arguments)},i[r].l=1*new Date();a=s.createElement(o),
m=s.getElementsByTagName(o)[0];a.async=1;a.src=g;m.parentNode.insertBefore(a,m)
})(window,document,'script','//www.google-analytics.com/analytics.js','ga');
ga('create', 'UA-45892555-1', 'robertfrankmedia.blogspot.com');
ga('send', 'pageview');