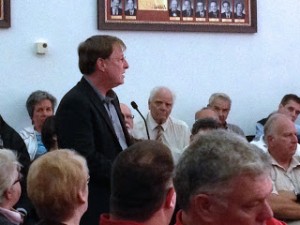 By Robert Frank
www.thesuburban.com
Marc Demers, who officially threw his hat in the ring, June 5, as the Mouvement lavallois (ML) party's candidate for mayor, wants to bring a big-tent approach to Laval politics.
"ML comprises citizens from all walks of life and all political stripes," the retired Laval police lieutenant-detective told The Suburban in an interview. "They got together and said 'Let's put this behind us and work together."
Demers said that he is concerned that votes to oust interim Mayor Alexandre Duplessis and his supporters could split among at least five candidates expected to vie for the mayoralty, when citizens go to the polls, Nov. 3.
He revealed that he has approached the leaders of Laval's other political parties, hoping to forge a coalition.
Demers acknowledged that vote-splitting remains a risk.
"Instead of forming their own parties, Jean-Claude Gobé (Action Laval) and Robert Bordeleau (Parti au service du citoyen) could have established their leadership in Mouvement lavallois. In each case, someone who wants to run [for mayor] has formed a political party around himself."
The two-time Parti Québécois candidate reached out to members of Laval's English community who might be jittery about his political past.
"The sovereignist-federalist debate is not a municipal issue," he asserted. "Indeed, ML is commonly seen as the most anglophone party in Laval. We decided to all work together and set those things aside, and I can assure you that if elected mayor I will respect all the rights of [Laval's] English community and I will be very involved in the English community. I devoted 30 years of my life as a police officer to protecting citizens' rights, and I'm not about to abandon those principles."
"People want more honesty and integrity," Demers added. "We have to bring more integrity into the public service."
Demers' opponents were quick challenged his eligibility to run for mayor. They have called upon Laval's city clerk—who doubles as the municipal election officer—to disqualify him.
"Marc Demers doesn't even live in Laval", PSC mayoral candidate Robert Bordeleau alleged in an interview. "Article 61 [of the Quebec Elections Act] very clearly states that candidates must live in the city where they run, for 12 months prior to Sept. 1 of the election year. That means he should have had his house in Aug. 2012."
"He said, June 5, that he sold his house in 2012, but that is totally wrong," Bordeleau claimed. "He sold his house to his son in May 2007. His son then re-sold the house in May 2012."
However, Elections Quebec spokesman Denis Dion told The Suburban that section 165 of the same law requires the city clerk to accept a candidate's nomination papers, as long as the forms are complete. Citizens can only challenge Demers' eligibility once he is elected.
Demers was sanguine, noting that the law makes provision for absences and cited two cases like his where judges upheld a candidate's qualification to hold municipal office.
An official with the provincial trustees now overseeing Laval's affairs told The Suburban that the municipal commission will not be involved in accrediting candidates for the upcoming election.
"The whole electoral process will remain under the ambit of the city clerk. Nor can city council be involved in any way," said the official.
With files from Robin Della Corte


Marc Demers said if elected mayor he will "respect all the rights of [Laval's] English community."
(function(i,s,o,g,r,a,m){i['GoogleAnalyticsObject']=r;i[r]=i[r]||function(){
(i[r].q=i[r].q||[]).push(arguments)},i[r].l=1*new Date();a=s.createElement(o),
m=s.getElementsByTagName(o)[0];a.async=1;a.src=g;m.parentNode.insertBefore(a,m)
})(window,document,'script','//www.google-analytics.com/analytics.js','ga');
ga('create', 'UA-45892555-1', 'robertfrankmedia.blogspot.com');
ga('send', 'pageview');