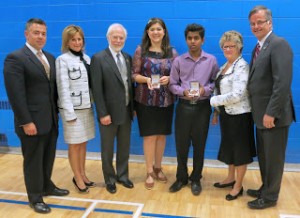 By Robert Frank
www.thesuburban.com
Alexandra Papathanosopoulos and Sanjeev Sundaralingam (centre) display the medals that they received during an official ceremony, May 26, in recognition for their contribution to their school and the community.
The medals are awarded to Quebec students who, in addition to succeeding in their studies, have demonstrated the qualities of self-transcendence and self-sacrifice.
They were joined after the ceremony by (left to right) Laval Liberty High School staff member Daniel Johnson and principal Josée Côté, Quebec Lieutenant-Governor Hon. Pierre Duchesne and his spouse, Hon. Ginette Lamoureux and Chomedey's representative in the Quebec legislature Guy Ouellette.
(function(i,s,o,g,r,a,m){i['GoogleAnalyticsObject']=r;i[r]=i[r]||function(){
(i[r].q=i[r].q||[]).push(arguments)},i[r].l=1*new Date();a=s.createElement(o),
m=s.getElementsByTagName(o)[0];a.async=1;a.src=g;m.parentNode.insertBefore(a,m)
})(window,document,'script','//www.google-analytics.com/analytics.js','ga');
ga('create', 'UA-45892555-1', 'robertfrankmedia.blogspot.com');
ga('send', 'pageview');