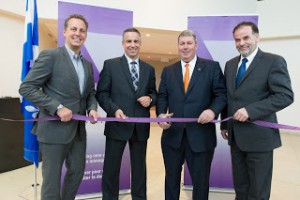 By Robert Frank
www.thesuburban.com
Valeant Pharmaceutical has moved to the front the parade of multinational corporations that are relocating their head offices to Laval. Already the largest Canadian drug company, it set itself apart from the pack last week, when it officially opened its worldwide headquarters here—rather than just its Canadian subsidiary.
"We could have stayed in Ontario," Sébastien Beauchamp told The Suburban in an interview. "We had very nice building in Mississauga but, from a business and expertise perspective, it made sense to close it, sell the premises and concentrate our activities in Laval."
"The life sciences cluster made Laval very interesting," continued Valeant's communications, government and investor relations director, who extolled the burgeoning biotech city which, last year alone, attracted a quarter-billion dollars in industrial investment to Laval.
"The proliferation of well-qualified people here, together with easy access to the city and the airport by highway made Laval a good place to consolidate all our manufacturing and administration. Our senior management travels a lot, because Valeant has offices everywhere on the planet."
It helped that Valeant's chief executive officer spent his formative years in Quebec.
"J. Michael Pearson grew up on the South Shore in St. Lambert," Beauchamp explained. "He decided that Quebec would be the best place to locate our key decisionmakers."
Valeant itself continues to grow rapidly as a company, as well, Beauchamp added, "always through mergers and acquisitions."
Indeed, as The Suburban went to press, the company was reportedly on the verge of spending $9 billion to acquire optical giant Bausch & Lomb. Previous acquisitions include drug companies like Medicis, Dermik and Obagi.
"The company started in California more than two decades ago," Beauchamp said, "and operated a small Canadian office in St. Laurent."
"When it merged with Biovail in 2011, it gained a much bigger footprint in Canada," he noted.
(Left to right) Laval Mayor Alexandre Duplessis, Valeant Canada president Jacques Dessureault, Valeant chairman and CEO J. Michael Pearson and Quebec science and technology minister Pierre Duchesne officially opened the first international pharmaceutical head office to operate out of Quebec in Laval's biotech city, May 21.
(function(i,s,o,g,r,a,m){i['GoogleAnalyticsObject']=r;i[r]=i[r]||function(){
(i[r].q=i[r].q||[]).push(arguments)},i[r].l=1*new Date();a=s.createElement(o),
m=s.getElementsByTagName(o)[0];a.async=1;a.src=g;m.parentNode.insertBefore(a,m)
})(window,document,'script','//www.google-analytics.com/analytics.js','ga');
ga('create', 'UA-45892555-1', 'robertfrankmedia.blogspot.com');
ga('send', 'pageview');