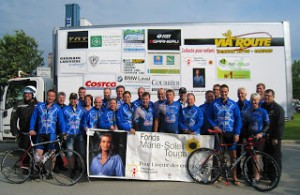 By Robin Della Corte and Robert Frank
www.thesuburban.com
Police arrested five men May 15, whom they believe committed a string of armed robberies in Laval involving knives, guns and pepper spray during the past several months.
At 10:45 p.m., police received a holdup call from a dépanneur at 2276 Lévesque in Duvernay.
"We know that the five suspects are related to a number of armed robberies in Laval," Sgt. Frédéric Jean said in an interview.
Four suspects holding pepper spray allegedly entered the dépanneur while the other remained inside the car.
En route to the holdup scene, Laval police officers spotted the suspects' distinctive Cadillac SRX car and followed it toward Montreal.
With help from the police tactical squad, they finally stopped the car in Montreal's Ahuntsic district.
The five men inside were arrested for armed robbery and will be questioned in relation to other convenience store incidents.
Machine pistol seized
Laval's anti-gang squad has arrested two Chomedey men whom they suspect were involved in drug trafficking.
On May 22, they arrested May Sam Habibzadey, 21 and Mehdi Zandi, 33, in a parking lot on Labelle Blvd., and subsequently searched Zandi's Chomedey residence, where they found a half-kilo of ecstasy powder, six ounces of cocaine, a pound of cannabis and a Cobray machine pistol (a pistol that fires automatically), with cartridges and ammunition. They also seized $21,000 in cash and a vehicle.
The suspects were arraigned in court the following day and will face a variety of drug and weapons charges.
Pedestrian killed
Laval police responded to the death of a 55-year-old man, May 21, after he was stuck by a truck while crossing de l'Avenir Blvd., around 9:30 a.m.
"The victim passed behind a truck that was backing up. The vehicle was equipped with an auditory backup warning," remarked Sgt. Jean. "Investigators determined that the warning device was working and are unclear as to why he crossed the street where he did, despite the nearby pedestrian crossing."
The traffic fatality was Laval's second accidental death of the year.
Cycling for sick kids
Fifteen Laval police officers and five volunteers embarked on a 1,100 km cyclathon through Quebec, May 27.
"They're raising money for the Marie-Soleil Tougas fund, to support Opération Enfant- Soleil, which helps sick kids," explained Sgt. Jean.
"The cyclists left from City Hall at 8:45 a.m., Monday, and will wend their way through various Quebec towns before they return, around 4:15 p.m., June 1.

Quebec City police plan to link up with their Laval colleagues during the trip.
"During the past 16 years, the annual event has raised more than $1 million for sick children."
Laval police cycling enthusiasts have raised more than $1 million for sick children during the past 16 years.
(function(i,s,o,g,r,a,m){i['GoogleAnalyticsObject']=r;i[r]=i[r]||function(){
(i[r].q=i[r].q||[]).push(arguments)},i[r].l=1*new Date();a=s.createElement(o),
m=s.getElementsByTagName(o)[0];a.async=1;a.src=g;m.parentNode.insertBefore(a,m)
})(window,document,'script','//www.google-analytics.com/analytics.js','ga');
ga('create', 'UA-45892555-1', 'robertfrankmedia.blogspot.com');
ga('send', 'pageview');