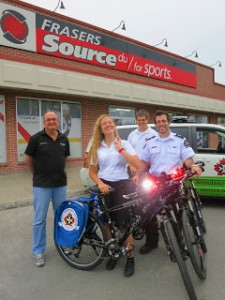 By Robert Frank
www.thesuburban.com
Fit, young St. John Ambulance first responders will be plying West Island park paths this summer, Montreal island deputy regional director Jeffrey Gross told The Suburban in an interview.
"The unit will fan out on bicycles during weekends and holidays," explained the Dollard des Ormeaux resident, "to patrol parks provide first aid services, help prevent injuries and convey infermation about the effects of summer heat-related injuries.
The two-wheelers are specially designed for police and first responder use, and equipped with flashing lights and sirens as well as panniers strong enough to carry modern lifesaving equipment such as oxygen bottles and defibrillators.
The 130-year-old volunteer organization, which depends entirely on public support, received its first four patrol bicycles last week, thanks to contributions from members of the St. John Ambulance Association charity.
"We need eight more of the bikes," Gross added.
"The bicycle patrol unit will rotate through the various municipalities over the course of the summer," he explained, "but we will naturally be responsive if a city asks for a specific event to be prioritized."
Accès Communication (www.accesradio.com) has also donated five long-range walkie-talkies, Gross said. In addition, the bicycle patrol program also has already received commitments of financial support from West Island politicians Pierre Marsan and Lysane Blanchette-Lamothe, and Gross is currently making the rounds of other prospective donors.
The Fraser sporting goods store, a steadfast presence in Pointe Claire's Valois Village for the past 35 years, supported St. John Ambulance as well, by assembling and tuning the bikes.
"My father volunteered for St. John Ambulance, and served at hockey games at the Montreal Forum on Atwater," recalled store manager Avi Karnofsky.
(Left to right) Frasers' manager Avi Karnofsky and St. John Ambulance first responders Razvan Rusu and Maria José-Grasso with Montreal island deputy regional director Jeffrey Gross and their first strobe-and-siren equipped patrol cycles.
(function(i,s,o,g,r,a,m){i['GoogleAnalyticsObject']=r;i[r]=i[r]||function(){
(i[r].q=i[r].q||[]).push(arguments)},i[r].l=1*new Date();a=s.createElement(o),
m=s.getElementsByTagName(o)[0];a.async=1;a.src=g;m.parentNode.insertBefore(a,m)
})(window,document,'script','//www.google-analytics.com/analytics.js','ga');
ga('create', 'UA-45892555-1', 'robertfrankmedia.blogspot.com');
ga('send', 'pageview');