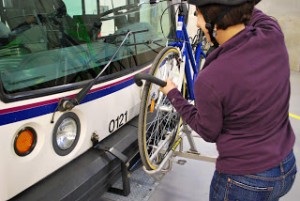 By Robin Della Corte
www.thesuburban.com
After last year's success of bike racks installed on
Société de transport de Laval
(STL) buses on route 60, STL has decided that this summer all buses in the city will be equipped with a bike rack.
In a statement, STL said that its so-called CycloBus service, which can accommodate up to maximum of two bikes per bus, will operate from May 1 to Oct. 31.
"We conducted a survey to ask people what they wanted," STL spokeswoman Marie-Céline Bourgault said. "We saw that many people appreciated the bicycle service and decided to implement it on all buses."
Bourgault explained that the racks can only be used at specified times throughout the summer and that those restrictions should be respected.
Bicycles will be permitted May 1 to Aug. 17 from 5 a.m.-9 p.m.; Aug. 18 to Sept. 18 from 5 a.m.-8 p.m.; and Sept. 19 to Oct. 31 from 6:30 a.m.-7 p.m.
The statement says that the CycloBus will help cyclers "save time and cover longer distances when commuting to work or going to and from their leisure activities."
It notes that bicycles can also accompany commuters in the first few cars of metro trains as well aboard certain cars of commuter trains serving Laval.
STL says that the CycloBus service will also support Laval's Sustainable Mobility Plan, which promotes active transportation.
Bourgault said that STL wants to support alternate means of transportation and encourage people to cut down on using single-occupancy automobiles.
Laval's bike paths officially opened April 15, including 32 kilometres of Route Verte. Forty-six percent of Laval's cycle network is separate from roads and 42 percent consists of roadside bike lanes.
Bourgault stated that she believes the CycloBus service will be very popular this year and that the STL "feels confident about the decision."
(function(i,s,o,g,r,a,m){i['GoogleAnalyticsObject']=r;i[r]=i[r]||function(){
(i[r].q=i[r].q||[]).push(arguments)},i[r].l=1*new Date();a=s.createElement(o),
m=s.getElementsByTagName(o)[0];a.async=1;a.src=g;m.parentNode.insertBefore(a,m)
})(window,document,'script','//www.google-analytics.com/analytics.js','ga');
ga('create', 'UA-45892555-1', 'robertfrankmedia.blogspot.com');
ga('send', 'pageview');