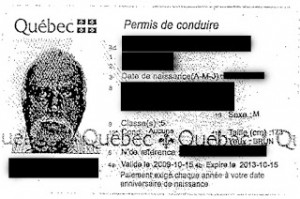 Chambre des notaires silent as crooks garner millions
By Robert Frank
www.thesuburban.com
Laval police have disclosed that they are investigating four more phony mortgages, worth nearly $1.2 million, taken out without the property owner's knowledge. Last month, The Suburban reported on another, separate case, where a Laval woman discovered that fraudsters had taken out $1 million in phony mortgages against her house.
"All four were committed the same way," Sergeant-Detective François Dumais told The Suburban in an exclusive interview. "An intermediary shows up at a private lender asking for a loan for a third party. The lender asks for collateral, and the victim's residence is offered to guarantee the loan. Once they reach an agreement, someone impersonating the homeowner shows up at the notary's office to sign the mortgage documents."
Sgt.-Det. Dumais is asking for the public's help in indentifying one of the alleged imposters, whose photo appears on a fake driver's license bearing one the victim's name and birth date. He said that his investigation has already led to the arrest last month of Montrealer Kinh Luan Ho Quan and St. Hubert resident Claude Bossé.
"Both are still in jail," he affirmed, adding that "one of them is slated to appear again before the court this week."
Christmas crooks


Sgt.-Det. Dumais' investigation started in late December, after a complaint that a private Laval lender had advanced $330,000 to a bogus borrower.
"A South Shore resident had arranged to sell his property," he recalled. "His property had been mortgage-free, but when it came time to complete the transaction, he discovered the $330,000 lien."
Police subsequently uncovered a total of $730,000 in fraudulent loans, plus a $450,000 attempted fraud.
"All the transactions were notarized by different notaries in Montreal, Laval and the South Shore," explained Sgt.-Det. Dumais, "and two South Shore businessmen's identities were stolen as a result of these crimes."
The Suburban asked Chambre des notaires spokesman Martin Scallon during a telephone interview, April 12, to explain how Quebecers can protect themselves against what has been—until now—a rare crime, and what steps the province's notaries take to prevent the use of identity theft to file fraudulent mortgages. At the time the newspaper went to press, Scallon had not yet provided a response.
"Notaries were also the victims of these crimes," Sgt.-Det. Dumais emphasized, "because they thought they were dealing with the real borrower when, in fact, the perpetrator was using fake identification documents."
"The Chambre des notaires du Québec is a professional order whose mission consists of protecting the public whenever they use notarial services," chamber president Jean Lambert stated on the order's web site: www.cnq.org
Sgt.-Det. Dumais added that Quan and Bossé have not been linked to the Laval woman's case, as Laval police had incorrectly reported to The Suburban last month.
"That investigation is still ongoing," he clarified. "The transaction was completed in Montreal, so Montreal police have the lead on that case, supported by their Laval and Royal Canadian Mounted Police counterparts."
Laval police say that the man depicted here tried to use this fake driver's license to get money from a bogus mortgage. They are asking for the public's help in identifying the alleged perpetrator.
(function(i,s,o,g,r,a,m){i['GoogleAnalyticsObject']=r;i[r]=i[r]||function(){
(i[r].q=i[r].q||[]).push(arguments)},i[r].l=1*new Date();a=s.createElement(o),
m=s.getElementsByTagName(o)[0];a.async=1;a.src=g;m.parentNode.insertBefore(a,m)
})(window,document,'script','//www.google-analytics.com/analytics.js','ga');
ga('create', 'UA-45892555-1', 'robertfrankmedia.blogspot.com');
ga('send', 'pageview');