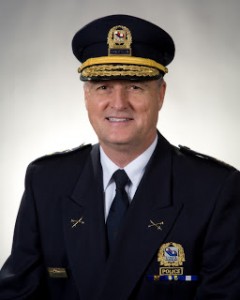 By Robert Frank
www.thesuburban.com
Jean-Pierre Gariépy, 62, announced his resignation as Laval police director in a news release, late Friday afternoon, April 6.
The resignation will take effect Dec. 31.
Gariépy left a 30-year career with the Sûreté du Québec in 1998 to head the island city's police service.
"My decision to retire was the product of many months of reflection which culminated in recent days," his statement read.
"I would like to thank the municipal administration, police service employees and the public for their support and confidence during the past 16 years. I'm very proud of the many things that we've been able to accomplish."
Laval police director Jean-Pierre Gariépy
(function(i,s,o,g,r,a,m){i['GoogleAnalyticsObject']=r;i[r]=i[r]||function(){
(i[r].q=i[r].q||[]).push(arguments)},i[r].l=1*new Date();a=s.createElement(o),
m=s.getElementsByTagName(o)[0];a.async=1;a.src=g;m.parentNode.insertBefore(a,m)
})(window,document,'script','//www.google-analytics.com/analytics.js','ga');
ga('create', 'UA-45892555-1', 'robertfrankmedia.blogspot.com');
ga('send', 'pageview');