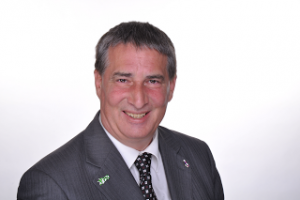 Slated to appear before Quebec parliamentary commission today


By Robert Frank
www.thesuburban.com
Robert Bordeleau says that electric tramways are the 21st-century solution to Laval's transit woes.
The Parti au service du citoyen's candidate for mayor told The Suburban in an interview that he wants to build a network crisscrossing Île Jesus that will eventually link Laval and North Shore commuters with Montreal's downtown and South Shore.
"Tramways can deliver efficient public transit to the entire island for the same amount it will cost to extend the metro to Côte Vertu—which will only serve five percent of Laval territory," Bordeleau observed. "Building streetcar lines cost 75 percent less per kilometer than a metro line."
He noted that tramways run on standard gauge railway track. That has permitted cities like Toronto and New York to expand their transit networks at minimal cost, by using standardized equipment along existing railway rights-of-way that are incompatible with Montreal's quirky narrow-gauge, rubber-tired metro.
"The first line to be built would run down the middle of highway 440 and connect with two north-south lines," said the Fabreville resident, who grew up in Laval des Rapides. "The network would eventually comprise 11 lines powered by hydroelectricity delivered through the rails, so you won't see any electrical catenary wires overhead."
"We will complement the network with small electric buses like the ones Quebec City uses to pick up people near their homes and bring them to the nearest tramway station," Bordeleau explained.
"We costed-out the entire project together with Alsthom Group in 2008," he said, contrasting its $2.5-$5 billion price tag with the similar cost of extending the metro system.
Two weeks ago, Laval des Rapides politician Léo Bureau-Blouin lamented the lack of parking near the Montmorency metro station, and last month, Mayor Alexandre Duplessis told
The Suburban
that it would be futile to build additional parking facilities that would attract more commuters to the already-overloaded subway.
Société des transports de Laval is currently conducting engineering and operational tests on an alternative, battery-powered prototype electric bus, which has limited range and must be recharged every night.
Bordeleau also pledged to cut taxes, if he is elected mayor in November, and to let seniors ride STL buses free-of-charge from 9 a.m. to 4 p.m.
"We intend to reduce residential property taxes by five percent and perhaps reduce the business tax," he promised.
"Laval is one of the highest-taxed cities in Quebec," Bordeleau observed. "Everyone is beset by taxes, yet year in and year out the city runs a surplus. That means we are mismanaged and overtaxed."
He also intends to take immediate action to protect the environment, if he is elected.
Wetland development moratorium
"One of the first things that we will do on Nov.4 is to impose a moratorium on construction in all wetland forest," Bordeleau vowed. "Under the administration of mayors Vaillancourt and Duplessis, we have lost 41 per cent of Laval's green space."
He added that he is pleased that so many of the policies that his party has advocated during his two decades in municipal politics were subsequently adopted by his political opponents.
"At last count, mayors Vaillancourt and Duplessis have implemented 45 our ideas," Bordeleau enthused. "That's a very good thing for Laval citizens."
"In addition, our proposal to conduct spot checks on municipal contractors was adopted by the Quebec government," he continued.
"It's not enough to criticize the government," he concluded. "You have to offer good ideas of your own as an alternative."
As The Suburban went to press, Bordeleau told the newspaper that he had been called to appear, April 10, before a Quebec parliamentary committee looking into political campaign financing.
Robert Bordeleau
(function(i,s,o,g,r,a,m){i['GoogleAnalyticsObject']=r;i[r]=i[r]||function(){
(i[r].q=i[r].q||[]).push(arguments)},i[r].l=1*new Date();a=s.createElement(o),
m=s.getElementsByTagName(o)[0];a.async=1;a.src=g;m.parentNode.insertBefore(a,m)
})(window,document,'script','//www.google-analytics.com/analytics.js','ga');
ga('create', 'UA-45892555-1', 'robertfrankmedia.blogspot.com');
ga('send', 'pageview');