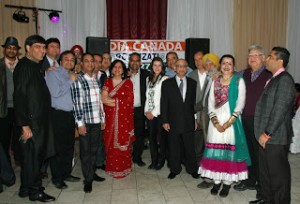 By Robert Frank
www.thesuburban.com
The arrival of spring means vibrant colour to most South Asians.
More than 135 members of Montreal's Indian community gathered at the Tandoor et Grille banquet hall on Sources boulevard in Dollard des Ormeaux, March 31, to celebrate Holi.
The Hindu festival is marked by spontaneous expressions of joy and exuberance. In India, entire crowds of revelers are often doused in brightly-coloured dye that is characteristic of the occasion.
The West Island gathering was organized by the India Canada Organization (ICO)—an umbrella group for Quebec's South Asian Community.
Among the organizations that participated were the Dollard des Ormeaux Hindu Mandir and the Hindu Mission of Quebec on Bellechasse; the Gujarati association known as Gujrathi Samaj; the National Association of Canadians of Origins in India; the Muttahida Qaumi Movement, a liberal Pakistani political party; the Pakistan Association of Quebec (PAQ); Gurdwara Ravidas, the Sikh temple in Park Extension, and Shan-e-Punjab, a Sikh social group.

"It was a very successful event that brought Indians together, regardless of their creed," said recently elected ICO president Naseer Mehdi Khan. "After the banquet, we danced until the wee hours of the morning."
Notable participants included Hindu Mandir president Subash Khanna and vice-president Raj Kapur; PAQ president Nizam Uddin; Sukhdial Singh Basran, president of Temple Shri Guru Ravi Dass Sabha in Park Extension; ICO board member Hayee Bukhari and Pierrefonds-Dollard member of parliament Lysanne Blanchette-Lamothe.
Indians from throughout Montreal gathered in Dollard des Ormeaux, March 31, to revel in the joy of Spring.
(function(i,s,o,g,r,a,m){i['GoogleAnalyticsObject']=r;i[r]=i[r]||function(){
(i[r].q=i[r].q||[]).push(arguments)},i[r].l=1*new Date();a=s.createElement(o),
m=s.getElementsByTagName(o)[0];a.async=1;a.src=g;m.parentNode.insertBefore(a,m)
})(window,document,'script','//www.google-analytics.com/analytics.js','ga');
ga('create', 'UA-45892555-1', 'robertfrankmedia.blogspot.com');
ga('send', 'pageview');