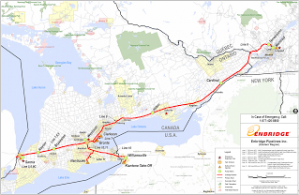 By Robert Frank
www.thesuburban.com
Laval's green activists have begun to lobby against a proposal by Calgary-based Enbridge Inc., to reverse the flow of its 30-inch oil pipeline that traverses the eastern tip of Île Jésus, as well as to boost the crude conduit's capacity by 25 per cent.
Few Laval residents are aware that a major pipeline, known as 9B, runs through their city. Enbridge built the line in the 1970s and, since 1976; it has carried crude oil from Sarnia, Ontario, to refineries in Montreal East. The line runs eastward to Terrebonne, on the North Shore, then drops south through Laval before it enters Montreal.
During the 1990s, demand for oil changed, and Enbridge successfully applied to Canada's National Energy Board (NEB) to reverse the flow in the pipeline so, since 1999, oil has moved westward through 9B.With production in Alberta's oil sands ramping up, last year Enbridge asked NEB for permission to reverse the flow again, this time to carry heavy crude oil originating in Northern Alberta eastward to Montreal. If approved, 9B would also convey oil from Saskatchewan and North Dakota.
In addition, Enbridge wants to boost by a quarter the amount of oil that the pipeline is able to carry each day, from its current 240,000 barrels to 300,000 barrels.
Enbridge is touting Canadian energy reliability and independence, by enabling the western oilfields to supply Eastern Canada. The oil would be delivered to Suncor Energy's refinery in Montreal East, whence it could also be transported by ship to be refined downriver in Lévis.
Opponents' worries range from macro-environmental concerns such as global warming, to local fears in Laval about the impact that a potential oil spill would have on the community.
In addition to inveterate environmental critics such as Greenpeace Canada, Equiterre and the Conseil regional de l'environnement de Laval, the pipeline issue has touched Laval municipal politics, with Parti au service du citoyen mayoralty candidate Robert Bordeleau
weighing in publicly last week against the Enbridge proposal.

Besides questioning the safety of increasing 9B's capacity, the dissenters doubt reliability of a four-decade-old pipeline, and have suggested that the more corrosive chemistry of heavy crude poses additional reliability risks.
NEB has announced its intention to convene public hearings on the proposal this summer, though it has indicated that only those who have a direct interest in the proposal will be permitted to intervene.
(function(i,s,o,g,r,a,m){i['GoogleAnalyticsObject']=r;i[r]=i[r]||function(){
(i[r].q=i[r].q||[]).push(arguments)},i[r].l=1*new Date();a=s.createElement(o),
m=s.getElementsByTagName(o)[0];a.async=1;a.src=g;m.parentNode.insertBefore(a,m)
})(window,document,'script','//www.google-analytics.com/analytics.js','ga');
ga('create', 'UA-45892555-1', 'robertfrankmedia.blogspot.com');
ga('send', 'pageview');