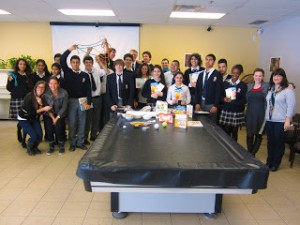 By Robert Frank
www.thesuburban.com
Exercise and nutrition have been a part of North Star Academy Laval (NSAL) daily routine since the start of the school year.
"We work with Moovjam, a brain science based lifestyle program that develops a happier, healthier and more engaged student culture," said NSAL admissions secretary Paola el Khouri.
"It's part of our curriculum," she explained. "Every day our students participate in Moovjam activities. Normally they keep a daily record what they have eaten and their physical activity."
"The kids love it," she smiled.
The private high school, which espouses traditional values, invited experts from www.moovjam.com and McGill university to visit the school, Feb. 13, to run five 20-minute workshops.
"Each class was divided into groups and spent half the time on exercise and the other half working on nutrition," added mathematics and science teacher Fabio Cinquemani.
"They used a stethescope to measure their own resting heart rate, skipped rope for about a minute, then again measured their heart rate," he recounted.
"The nutrition portion dwelt on portion sizes and acquainted the students with the different food groups from the Canada Food Guide."
"More than 100 of our students took part," he concluded. "They were energetic and excited to get the opportunity to skip rope, and expressed genuine interest in the nutrition portion of the workshop."
Moovjam was founded by Montreal social worker and neuropsychology researcher Laurie Bryna. Bryna, who herself overcame a battle with obesity, went on to develop Moovjam as a brain-science based method to foster healthy living. Her model can be applied to family, school, community and corporate settings.
More than 100 North Star Academy Laval students learned the value of exercise and nutrition, Feb 13.
(function(i,s,o,g,r,a,m){i['GoogleAnalyticsObject']=r;i[r]=i[r]||function(){
(i[r].q=i[r].q||[]).push(arguments)},i[r].l=1*new Date();a=s.createElement(o),
m=s.getElementsByTagName(o)[0];a.async=1;a.src=g;m.parentNode.insertBefore(a,m)
})(window,document,'script','//www.google-analytics.com/analytics.js','ga');
ga('create', 'UA-45892555-1', 'robertfrankmedia.blogspot.com');
ga('send', 'pageview');