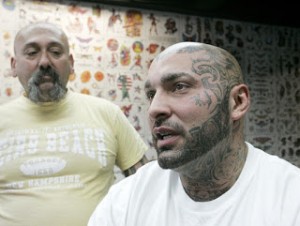 By Robert Frank
www.thesuburban.com
Investigators want to find 38-year-old mixed martial arts fighter turned actor Ziad Akl and his brother Elias Akl, 40, whose family resides in Laval.
Ziad appeared with Leonardo Dicaprio credited as the menacing "tattooed man" in Martin Scorsese's psychological thriller Shutter Island, and as an inmate with Christian Bale in the movie The Fighter.
Const. Nathalie Lorrain told The Suburban in an interview that on Dec. 26, 2009, security cameras recorded the Akl brothers brutally beating an employee of the Red Lite, a local after-hours club located at 1755 Lierre in Vimont.
She added that third man, Ahmed Farah Muhudin, has already been convicted for having stabbed the employee repeatedly with knife during the incident.
Laval police believe that Ziad might be living in the United States. In 2008, the Eagle Tribune, a suburban Boston newspaper, reported that Akl worked as a mechanic at his family's Getty service station on route 28 in Salem, New Hampshire.
"The arrest warrant is recent and is only valid in Canada," said Const. Lorrain. "No extradition request has been issued."
"Detectives have asked members of the Akl family, who live in Laval, to tell us his whereabouts," she said, "however the family is not cooperating. His brother Elias is probably living in Costa Rica at this time."
Const. Lorrain noted that the Akl family is "known to police".
Court records show that Laval police arrested Elias after they found 110 grams of heroin, two .357 calibre firearms and two bottles of pepper spray at his father George Akl's residence. However, Elias appealed to Quebec Superior Court to halt the proceedings against him.
On Nov. 9, 2009, judge André Vincent called the allegations that Elias also resided there "circumstantial" and threw out the charges against him.
According to Laval police, the Akl brothers should be considered armed and dangerous. Const. Lorrain said that they might return Laval from time to time to visit their family and asked anyone who might have information that would help Laval police to find and arrest them to call the confidential tip line at 450-662-4636.
Laval police want to find Elias Akl and his heavily tattooed brother Ziad (right), seen in this 2008 photo with Pelham, New Hampshire tattoo artist Tom Sardinha (left).


Martin Scorsese was impressed by Ziad Akl's willingness to add a permanent tattoo to his collection of more than 60 for the movie Shutter Island. Laval police now want to arrest the actor and his brother Elias for their alleged role in a brutal beating.
Sporting more than 60 tattoos, Ziad Akl (left) appeared as an inmate in the Hollywood film The Fighter alongside fellow actor Christian Bale (centre).
(function(i,s,o,g,r,a,m){i['GoogleAnalyticsObject']=r;i[r]=i[r]||function(){
(i[r].q=i[r].q||[]).push(arguments)},i[r].l=1*new Date();a=s.createElement(o),
m=s.getElementsByTagName(o)[0];a.async=1;a.src=g;m.parentNode.insertBefore(a,m)
})(window,document,'script','//www.google-analytics.com/analytics.js','ga');
ga('create', 'UA-45892555-1', 'robertfrankmedia.blogspot.com');
ga('send', 'pageview');