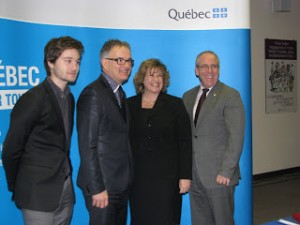 Quebec to pay for half of $6.2 million diagnostic facility
By Robert Frank
www.thesuburban.com
The Cité de la santé superhospital expects to open a new facility for the Laval Integrated Cancer Centre by the end of 2014.
Its centerpiece will be a new, multimillion-dollar diagnostic machine that will let doctors see exactly what is going on, deep inside a patient's body.
Known as a positron emission tomography scanner (PET-scan), the device records how a beam of positrons (the opposite of electrons) reacts inside the body. It then feeds the results into a powerful computer program that turns the information into a vivid three-dimensional image that enables doctors to assess a patient's health with far-greater accuracy.
The new PET-scan will work together with older, computerized axial tomography scanner (CAT-scan) technology that uses x-rays, rather than positrons, to facilitate diagnoses.
Due to Laval's aging population, the devices will increasingly also be handy, thanks to the relative ease and unintrusiveness with which it can peek inside the human brain. Studies show that—in addition to testing for cancer—PET-scan technology might improve the precision of diagnoses of neurological illnesses such as dementia.
Officials expect that the Laval facility will be able to conduct about 1,500 tests per year, once the centre is up and running.
In addition to assessing patients from Laval, the device will serve the population of the Laurentians and the southwest Lanaudière region.
The Fondation de la Cité de la santé contributed $2 million toward the acquisition, with Health and Social Services Laval kicking in $600,000 for the sophisticated new medical technology. An additional $400,000 has been allocated to cover the cost of equipment and furniture for the cancer centre. Taxpayers will shell out the remaining $3.2 million of the total $6.2 million expenditure, through the Quebec Ministry of Health and Social Services.
Health officials announced, Jan. 10, that Laval's superhospital will acquire a positron emission scanner within the next two years. (Right to left) Fondation de la Cité de la santé CEO Alain Demers, CSSS Laval CEO Caroline Barbir, Quebec Health Minister Dr. Réjean Hébert and Laval des Rapides' representative in the Quebec legislature, Léo Bureau-Blouin.
(function(i,s,o,g,r,a,m){i['GoogleAnalyticsObject']=r;i[r]=i[r]||function(){
(i[r].q=i[r].q||[]).push(arguments)},i[r].l=1*new Date();a=s.createElement(o),
m=s.getElementsByTagName(o)[0];a.async=1;a.src=g;m.parentNode.insertBefore(a,m)
})(window,document,'script','//www.google-analytics.com/analytics.js','ga');
ga('create', 'UA-45892555-1', 'robertfrankmedia.blogspot.com');
ga('send', 'pageview');