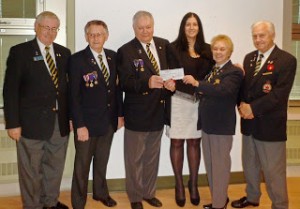 By Robert Frank
www.thesuburban.com
Emergency, ambulatory and day surgery patients at Lakeshore General Hospital are about to get new wheelchairs, thanks to a $15,000 donation from Royal Canadian Legion Branch 57.
"The hospital needed new wheelchairs because we noticed that in various departments—especially emergency—the fleet, had become old and dilapidated," said president Margaret Thomas, whose Legion branch previously donated a dialysis machine to the Lakeshore General Hospital.
Though best known for its annual poppy fund campaigns, which started Oct. 26, the Legion supports community organizations and veterans with several fundraising activities.
"The money all goes to the community," Thomas underscored. "We have to disburse every cent of it."
In addition to needy veterans, Thomas added, other beneficiaries include veterans' children, NOVA, and the ALS and Heart & Stroke foundations. The annual Christmas tree fund goes to purchase gifts to comfort veterans residing at the St. Anne de Bellevue hospital, which will be transferred to the government of Quebec in March 2013. Other funds go toward providing seeing-eye dogs and supporting local cadet programs.
The Pointe Claire Legion has also been quietly supporting impoverished veterans in Caribbean countries for many years, in collaboration with the Royal Commonwealth Ex-Services League.
"We raise quite a bit of money for Caribbean veterans," said Legion spokesman Brian Darling. "This is one of the primary charities that the Legion supports nationally as well as locally."
RECL established the special relationship several years ago and currently supports more than 375 destitute Caribbean war veterans, their widows and offspring. They also intervene to provide adequate housing as well as after recurrent natural disasters such as hurricanes.
(Left to right) Pointe Claire Legion spokesman Brian Darling, sergeant-at-arms Harry Baggott, poppy campaign chairman André Lalonde, Lakeshore General Hospital Foundation president Silvana Orrino, Branch 57 president Margaret Thomas and Legion member Karel Dezeeuw.
(function(i,s,o,g,r,a,m){i['GoogleAnalyticsObject']=r;i[r]=i[r]||function(){
(i[r].q=i[r].q||[]).push(arguments)},i[r].l=1*new Date();a=s.createElement(o),
m=s.getElementsByTagName(o)[0];a.async=1;a.src=g;m.parentNode.insertBefore(a,m)
})(window,document,'script','//www.google-analytics.com/analytics.js','ga');
ga('create', 'UA-45892555-1', 'robertfrankmedia.blogspot.com');
ga('send', 'pageview');