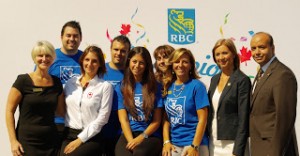 By Robert Frank
www.thesuburban.com
Customers at the Royal Bank of
Canada's Duvernay branch on de la
Concorde got a chance to hear from
Olympic fencer Sandra Sassine, who
dropped in at the bank, Sept. 13.
The visit was part of RBC's hometown champions celebration, which
encouraged citizens across Canada to
welcome home local athletes who
participated in the 2012 summer
Olympic games in London, England.
After giving a talk, Sassine
answered bank clients' questions and
signed autographs.
"Community members attended to
show their support for these individuals," said RBC's Quebec public relations director Raymond Chouinard.
"They learned how RBC's investment
in these athletes careers helped them
to achieve their dreams."
Olympic fencing athlete Sandra Sassine (2nd from left) joined Laval Royal Bank employees (left to right) Lucie Michaud (customer assistance officer), Marco Guarino
(central cash), Anthony Mancini (senior account manager), Gasia Yenikomouchian (service professional), Catherine Charalabous (client care manager), Nathalie
Boughton (senior account manager), Cristina Castaldo (branch manager) and Ralph Spena (Laval-Laurentians regional vice-president).