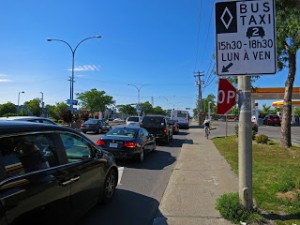 By Robert Frank
www.thesuburban.com
The right lane of St. Jean Boulevard is
now off-limits to rush-hour motorists—unless you're driving a bus, a taxi or a car
carrying two or more passengers.
City officials agreed to the new restrictions, which went into effect Aug. 20, to
let the Société des Transports de Montréal (STM) conduct a six-month
trial. The STM wants to see whether the
reserved lane will help to reduce congestion along the clogged north-south
artery, which has long operated well
beyond its design capacity.
Dollard des Ormeaux mayor Ed
Janiszewski doesn't anticipate a dramatic
improvement.
"Only some 15 percent of vehicles use
the inside lane because much of the time
they are stuck behind a bus that stops frequently," he told
The Suburban
in an
interview.
"So there should not be any great difference in the traffic, except that since
last year there are so many more homes
in Pierrefonds that the number of cars
has increased. Every hundred cars more
per hour just adds another hundred cars
idling at red lights."
"We're hopeful that more people will
take the bus to the Metro and reduce the
number of cars," he continued. "But people don't want to leave their cars."
Mayor Janiszewski acknowledged that
persistent construction delays on
Highway 20 have tripled ridership on the
express bus to Côte Vertu.
"During the past three years it has
risen from 4,000 to 12,000. It's a good
alternative for many people to take an express bus and a Metro to wherever they
are going. But West Islanders love their
cars and they're not necessarily going to
jump at the opportunity in greater numbers.
He said that bad planning has left West
Island officials with no options to improve
traffic flow on their thoroughfares."
Mayor Janiszewski is skeptical that the
West Island will see any rail or subway
infrastructure introduced during the
next half-century. However, he welcomed
a planned Metro station at Bois Franc
that will connect the Laval loop with the
subway along Decarie.
"It won't come to the West Island but it
will at least be close by in St. Laurent.
The Bois Franc station will be easier for
West Islanders north of the 40 to access
than the Côte Vertu Metro is."
Most motorists driving along St. John Boulevard ignored signs prohibiting single-passenger
cars from using the experimental express lane which Société des Transports de Montréal
launched Aug. 20.