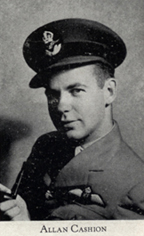 Charleval wants to name bridge after WWII RCAF pilot Allan Cashion
By Robert Frank
www.thesuburban.com
"The town of Charleval, France, has decided to name a bridge after Royal Canadian Air Force Flying Officer George Allan Euart Cashion," local municipal official Sanda Men Makoth told The Suburban, "but to do so, we need his family's permission."
The former Notre Dame de Grâce resident and West Hill High School class of 1939 alumnus perished during World War II, when his aircraft was shot down in a farmer's field on July 25, 1944. The crash site is just a hundred metres from where the new bridge across the Eure River now stands in Charleval, Upper Normandy.
F/O Cashion was a member of RCAF 421 Squadron, which helped to liberate France from the Nazi juggernaut after D-Day. He piloted one of a dozen Mark IX Spitfires that took off at 10:30 a.m. to conduct an armed reconnaissance of the Pont l'Éveque and Seine River, where Luftwaffe bases were concentrated.
A half-hour later, 10 miles southeast of Rouen, they met 40 Messerschmidt Bf 109 aircraft and engaged in a long dogfight during which F/O Cashion was the only casualty. He was 23.
A local veteran, Guy Pesier, produced a sketch depicting F/O Cashion's unsuccessful attempt to parachute to safety from his Spitfire as it flew just 30 metres above the tiny farm village.
Soon after the crash, several Charlevalois retrieved his remains, wrapped him in a white shroud and gave the RCAF hero a decent burial in the town's only Canadian military grave.
Joël Huard of the Association normande du souvenir aérien told The Suburban in a telephone interview that six years ago ANSA members François Gauthier, Thierry Boisrenoult and Laurent Hérisson retrieved pieces of F/O Cashion's downed plane: www.ansa39-45.fr/localisation.htm
The ceremony to dedicate the bridge will be held on June 28. Ms. Men Makoth said that if his family can be found in time, the bridge will be named Le Pont Allan Cashion.
"Without his family's permission, we will be unable to give his name to the bridge," Ms. Men Makoth explained. "We will only be able to dedicate it 'To the Memory of Alan Cashion."
She urged anyone with information as to how to contact F/O Cashion's surviving family members to contact her at: tourisme@charleval.net
His parents James Ross Cashion and Olive Helena Louise Harrison married in 1919 and lived at 5770 Sherbrooke Street West, at the time of his death. Records show that F/O Cashion might have had a twin Jacqueline, also born in May 1921; however The Suburban was unable to track down any record of her marrying or having offspring.
Note: A document received soon after this report was filed indicates that F/O Cashion had a cousin, Joan Harrison, though it does not state whether she married or had offspring.