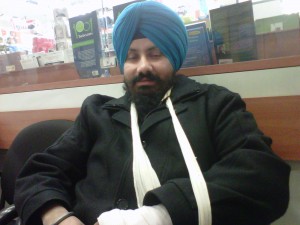 Sikh truck driver "couldn't work for three months"


By Robert Frank
www.newscoverage.org
The police ethics commission has ordered Montreal Police Sgt. Patrice Bigras "be suspended without pay for two eight-hour days" for having used more force than necessary when he arrested truck driver Narinder Singh Minhas in Pointe Claire, Nov. 23, 2011.
The prosecutor had recommended that Sgt. Bigras instead be suspended for three or four days.
Minhas' 22-wheel tractor-trailer rig was one of several vehicles that got stuck that morning when a blizzard and freezing rain blanketed the Sources Boulevard overpass at Highway 20 in heavy snow and ice.
When Sgt. Bigras arrested him, he badly injured Minhas' elbow, arm and left knee. The truck driver lost the three months of work due to the injury.
In its ruling, the police commission stated that the injuries "did not cause any after-effects."
Prosecutors did not pursue the original charge that Sgt. Bigras arrested Minhas for. However, he subsequently took the unusual step of charging Minhas again with the same offence. This time, Sgt. Bigras added another charge of criminal mischief to his allegations against Minhas, "for denying the legitimate use of a good, namely Sources Boulevard."
Montreal Police and Pointe Claire Public Security officials testified about the criminal charges against Minhas in court, Dec. 12.
The next hearing in the case is slated for May 11, 2015, when Minhas is expected to testify.
(function(i,s,o,g,r,a,m){i['GoogleAnalyticsObject']=r;i[r]=i[r]||function(){
(i[r].q=i[r].q||[]).push(arguments)},i[r].l=1*new Date();a=s.createElement(o),
m=s.getElementsByTagName(o)[0];a.async=1;a.src=g;m.parentNode.insertBefore(a,m)
})(window,document,'script','//www.google-analytics.com/analytics.js','ga');
ga('create', 'UA-45892555-1', 'auto');
ga('send', 'pageview');
Narinder Singh Minhas
Please follow and like us: